Make a classic casserole from the 1950s – upside down chili pie. It's a fun twist on an easy dish.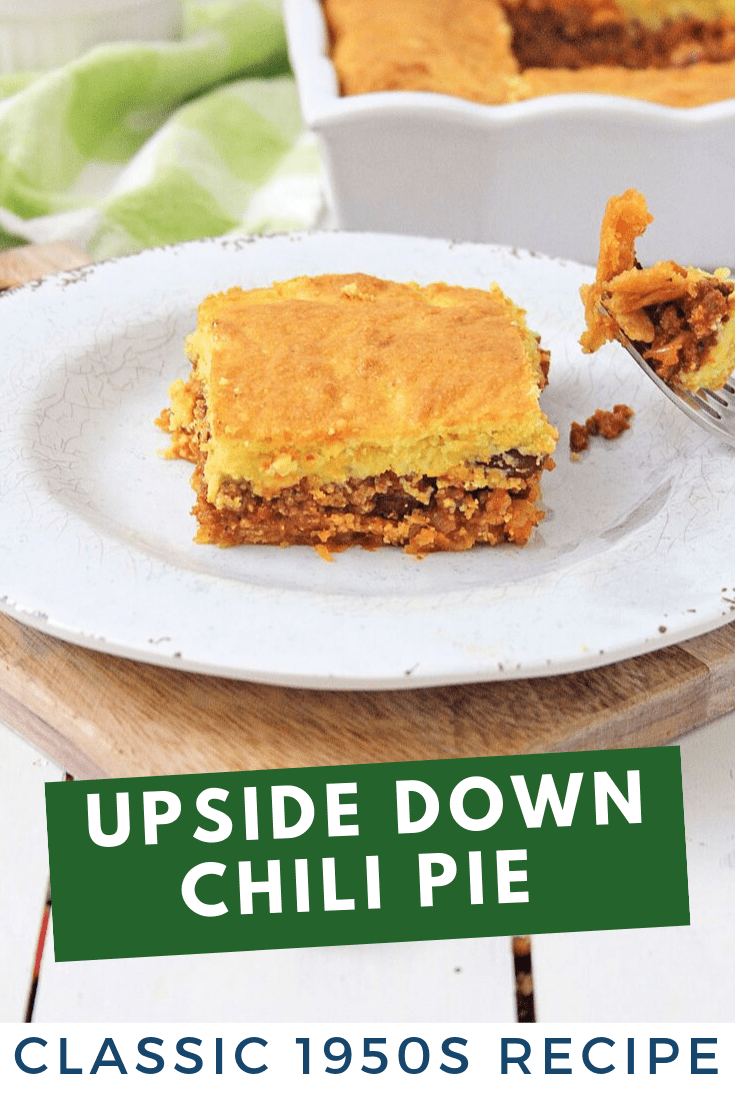 Disclaimer: Any products that I link to on Amazon.com are affiliate links. That means I will earn a small commission if you shop through my link, but at no extra cost to you. Thank you!
This is my 2nd installment of the Recipes on Parade series! I am featuring a different casserole each time from a cookbook created in the 1950s by military officer wives.
I bought a cookbook at a garage sale. It was a treasure – what a find! It's a collection of recipes all submitted by military wives in the 1950s or 1960s. And there are hundreds of recipes in here.
Here's what the cover of the cookbook looks like.
And here is where you can buy your own from Amazon.
Last time I made Beef & Noodle Casserole. This time, it is Upside Down Chili Pie!
Supplies You Will Need
Before you get started, these are the kitchen tools you'll need to make this dish. You probably already have them, but I'm sharing links to more just in case!
9×13 Casserole Dish – This one comes with a lid so you can easily refrigerate your leftovers.
Skillet – You will brown the beef in it. I use a GreenPan ceramic skillet and love it, it's so easy to clean!
Ramekins – These are optional, but it's really cute to just give everyone their own little chili pie!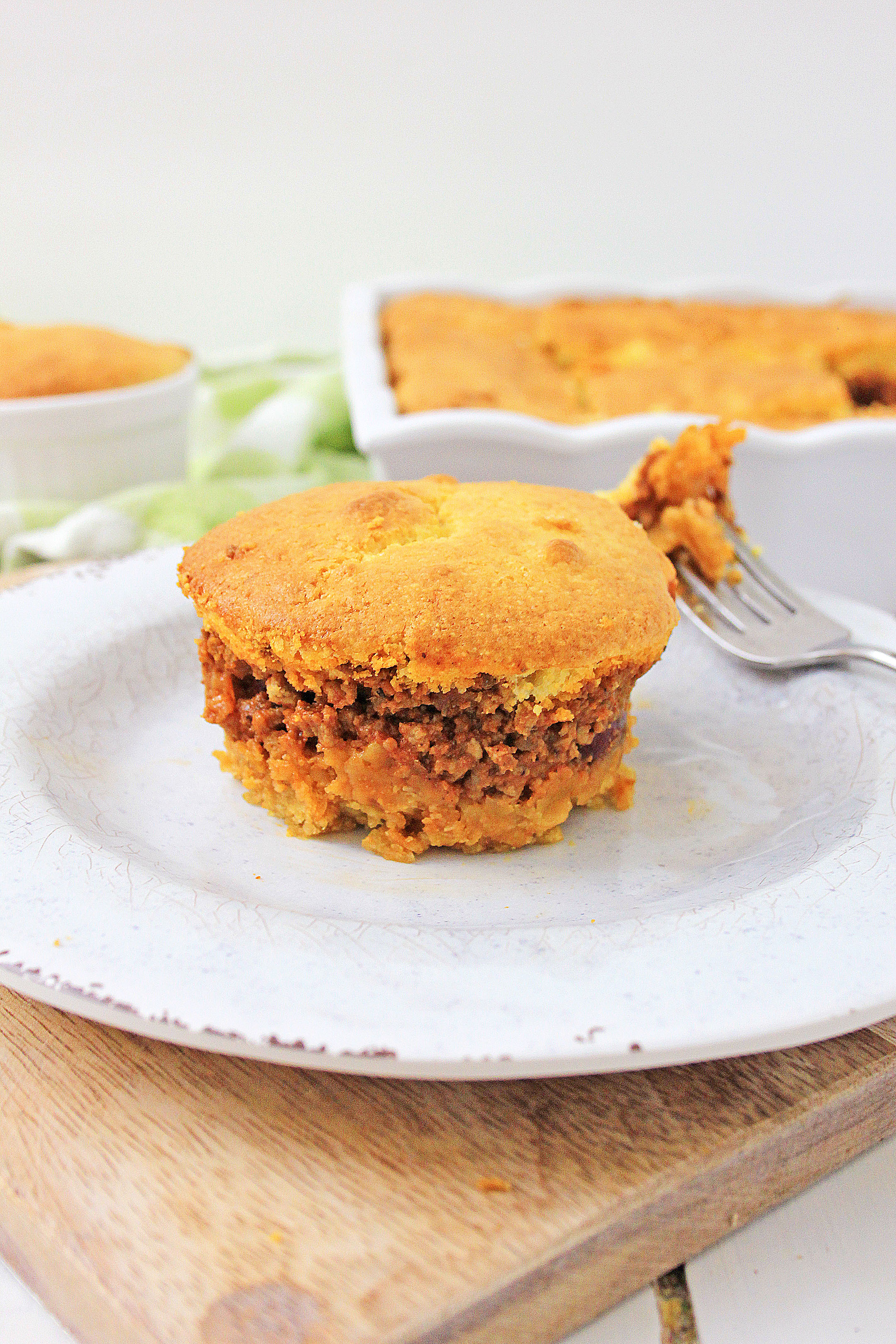 How To Make Upside Down Chili Pie
What is upside down chili pie? Well, there aren't any pictures in this cookbook, so I had to follow the recipe and see how it turned out.
It's basically chili in a casserole dish with cornbread on top.
Here is the original recipe, straight out of the book.
And here is how it looks when you make it, as-written, and without any photography skills.
How I Changed the Recipe
I modified the recipe so it wasn't as soupy (who wants liquid all over the plate? not my family!) I also added a few more spices since it was a smidge too mild. We like a lot of flavor over here.
You can make the recipe as it was written in the cookbook. But trust me, you'll love how it turns out with a few adjustments.
These are the changes I made:
Used tomato paste and tomato sauce instead of tomato soup
Brown sugar instead of white sugar
Added for more flavor: ketchup, cumin, seasoned pepper
Replaced ground beef with ground sirloin
Added half-n-half and eggs to the cornbread mix instead of water
Topped with cheese
Added Frito chip crumbs to the bottom of the casserole
And this is what it looks like when you perfect the recipe and hire a professional food photographer. WOW!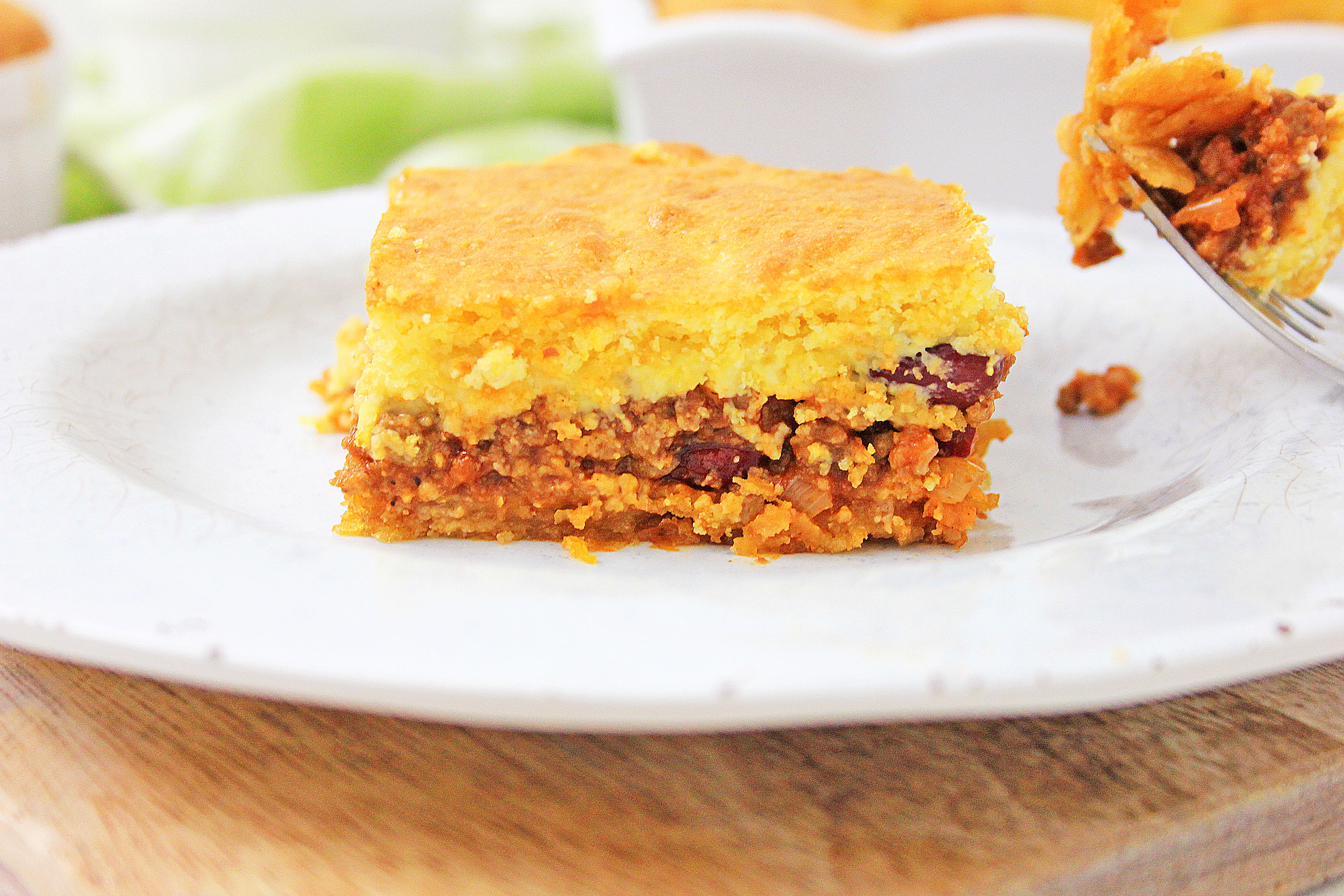 Jen was amazing! Just look at this money shot of the chili on fork! Are you hungry yet?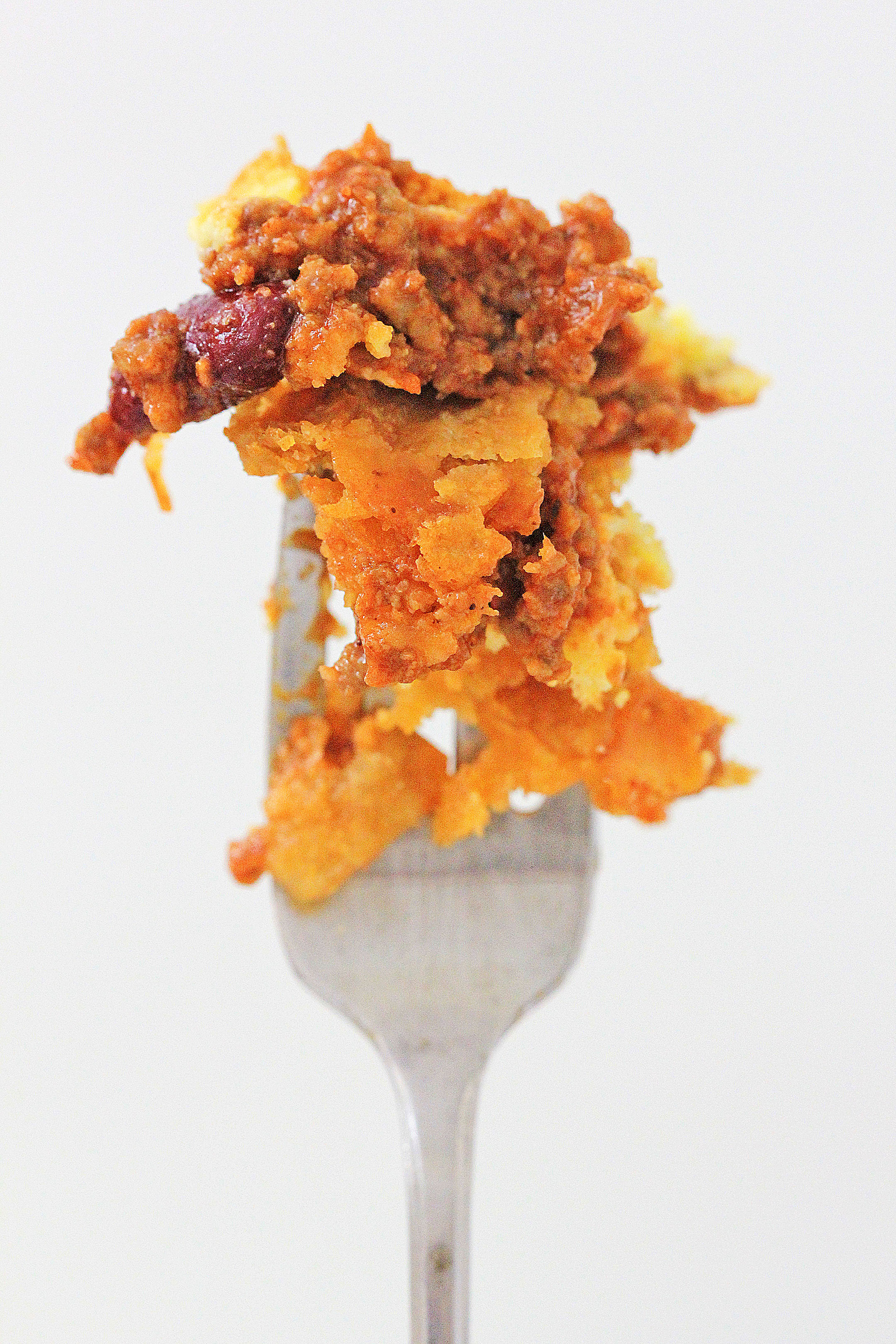 What To Bake It In
I tried both a casserole dish and individual ramekins (because those are so fun to eat out of. You can do either – both turn out wonderfully.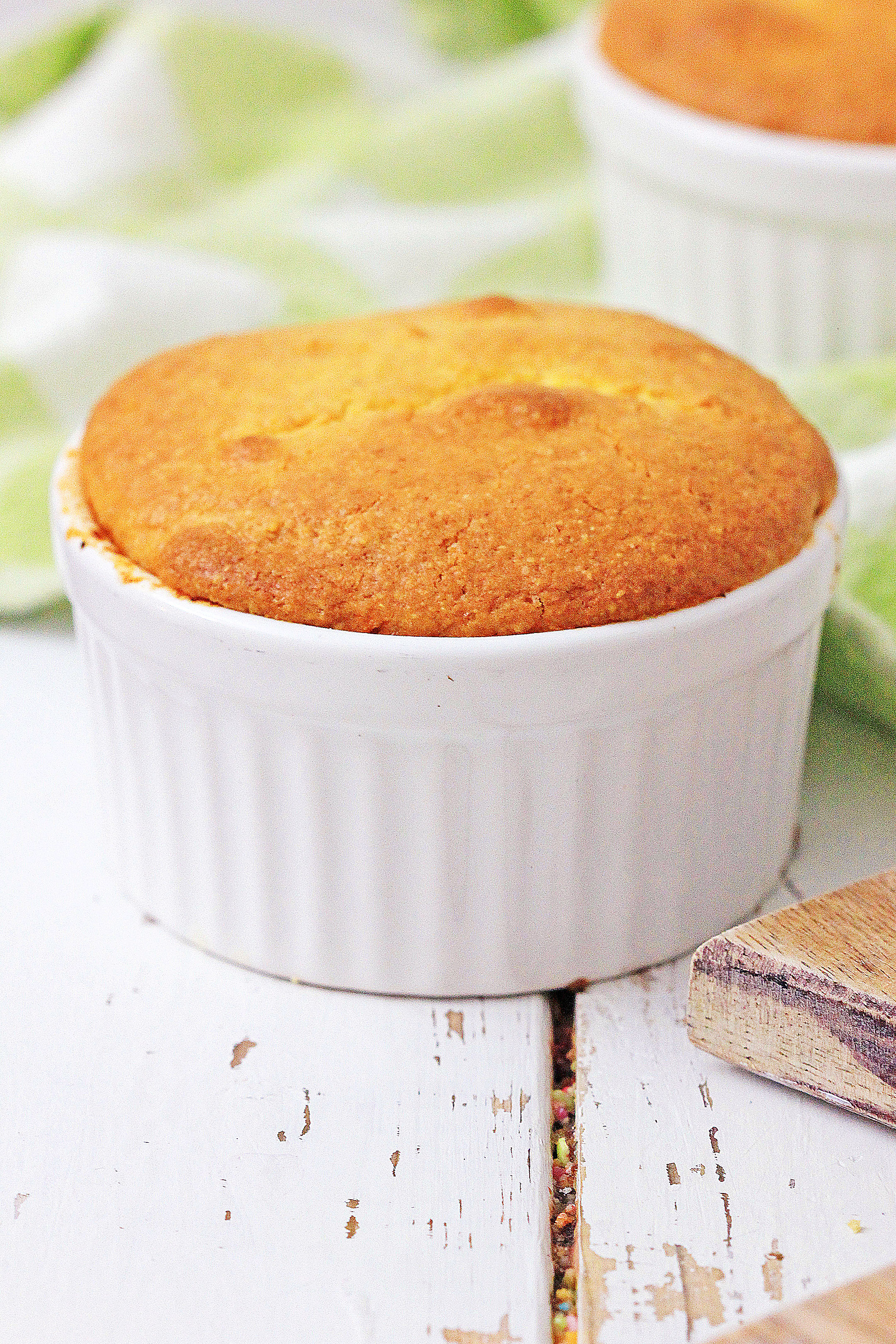 Are you ready for the recipe? Here you go! Print it out, pin it, share it on Facebook! And if you make it, tag @Venture1105 on Instagram or Facebook so I can see!
Yum!
Upside Down Chili Pie
Additional Time:
10 minutes
This is a classic recipe from the 1950s. Take a favorite idea and make it fun and different with this upside down chili pie.
Ingredients
2 pounds of ground Sirloin
1 medium sweet onion - chopped
1 Tablespoon of butter
1 - 6 ounce can of Tomato paste
1 - 8 ounce can of tomato sauce
1 1/4 cups of water
2 Tablespoons of Ketchup
1 Tablespoon of Chili powder
1 Tablespoon of ground Cumin
1/2 teaspoon of garlic salt
1/2 teaspoon of seasoned salt
1/2 teaspoon of seasoned pepper
2 heaping Tablespoons of brown sugar
1 can of Red Kidney Beans - drained and rinsed
(Extra butter to butter dish)
1 - 9.5 ounce bag of FRITOS corn chips
1 10 - 12 ounce bag of finely shredded Colby Jack Cheese
2 packages of Jiffy cornbread mix
2 eggs
2/3 cup of half n half
Instructions
Preheat the oven to 400 degrees F.
Add the ground Sirloin to a large skillet, and cook the Sirloin until it's completely done, and browned. Remove the Sirloin from the skillet to a large bowl lined with paper towels, to completely drain the fat from the meat.
Chop the onion in small pieces, and add the butter to the skillet. When the butter is melted, add the onion to the skillet, and cook the onion until it's golden brown. Return the ground Sirloin to the skillet, and crumble the meat into small pieces, breaking up any large pieces of meat.
Continue to cook, making sure the meat is done. Add the tomato paste, water, and tomato sauce to the meat and onion, and stir well to blend. Add the Ketchup and blend into the meat.
Add the Chili powder, Cumin, garlic salt, seasoned salt, seasoned pepper, and brown sugar, and stir well to blend all ingredients together. Turn heat on low, and allow mixture to simmer.
Drain the Kidney beans in a Colander, and rinse with cold water until beans are well rinsed, about 1 minute. Let water drain from beans for a couple of minutes, then, add beans to meat mixture, and stir well. Turn off heat.
Place butter in a 9 X 13 Casserole dish, and butter the bottom and sides of dish (not melted butter - use cold butter so it will stick to the dish).
Pour the whole bag of Fritos into the bottom of the dish, and evenly crush the Fritos on the bottom of the dish (I used my hand to crush the corn chips evenly on the bottom of the dish).
Sprinkle the whole package of cheese on top of the Fritos.
With a spoon, spoon the Chili over the cheese, and smooth out evenly in the dish.
Make the cornbread; Place the cornbread mixes in a bowl, add the eggs, and half-n-half, and mix until completely blended.
Spoon the cornbread on top of the Chili, and smooth evenly in the dish.
Place the Casserole dish in the oven, at 400 degrees, for about 20 minutes, or until the cornbread is golden brown on top, and a toothpick inserted in the center comes out clean.
Remove the Casserole from the oven, and allow to cool for about 10 minutes before serving.
When ready to serve, this can be served with sour cream, shredded cheddar cheese, or any other toppings you choose. Serve and Enjoy!


Notes
The measurements given for the spices will flavor this dish, but it won't be hot; if you like your chili hotter than this, simply add more Chili powder to the meat.
Nutrition Information:
Yield:

12 cups
Serving Size:

1 cup
Amount Per Serving:
Calories:

1509
Total Fat:

110g
Saturated Fat:

62g
Trans Fat:

0g
Unsaturated Fat:

40g
Cholesterol:

372mg
Sodium:

2257mg
Carbohydrates:

36g
Fiber:

4g
Sugar:

10g
Protein:

96g
More Family Dinner Ideas
As you make the menu for the week, here are some more ideas to add to it.