What are the must-have beauty trends in 2019? Sustainability and effortless glamour made the list! Read the other trends we hope stick around.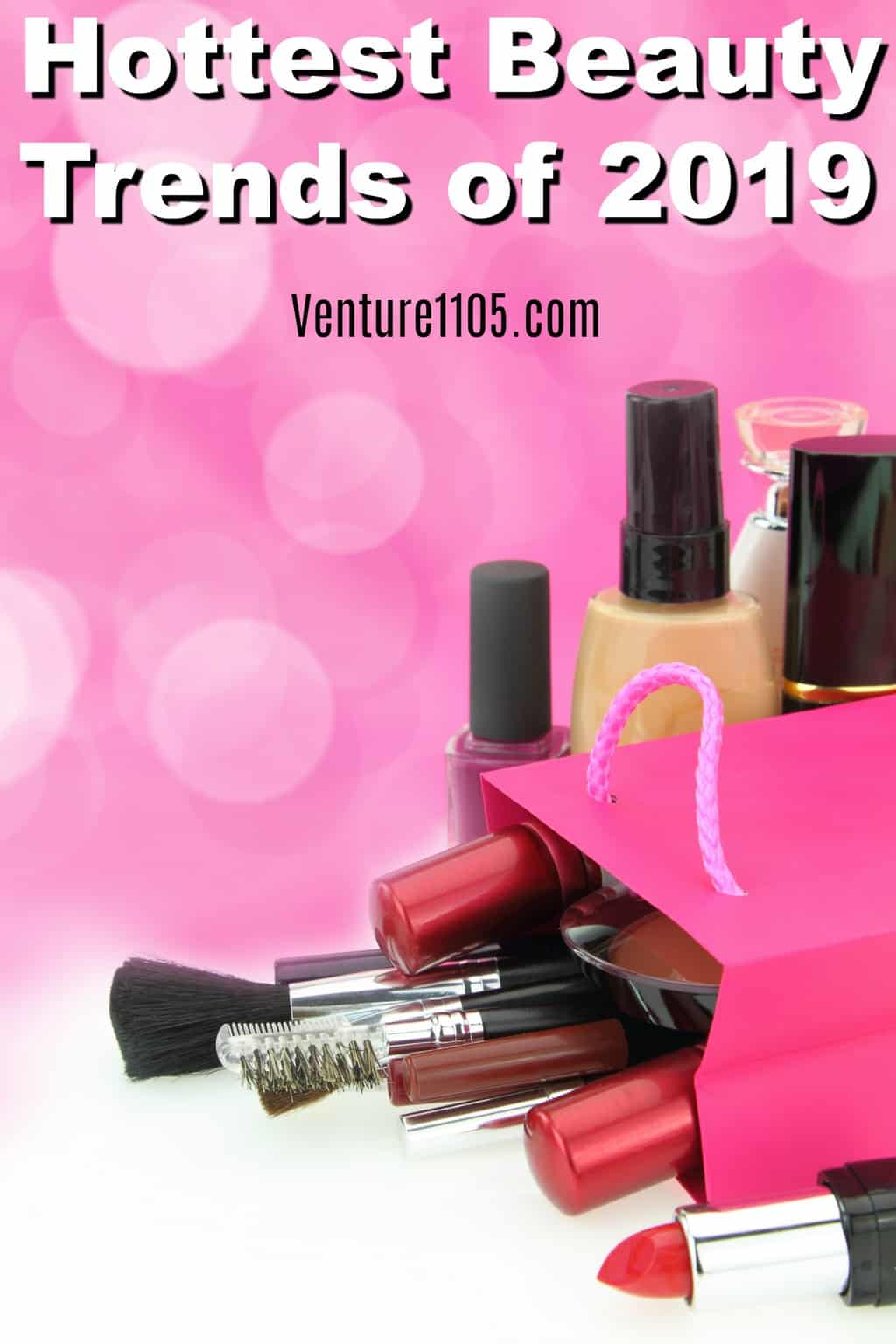 Makeup and beauty trends are continually changing and especially with the increasing popularity of makeup and beauty vloggers who are always at the forefront of the new products that are coming out, and the latest styles or methods you can learn just by watching youtube or looking at social media.
Spring and Summer 2019 Beauty Trends
So what can you expect for this season? The spring and summer trends in 2019 aren't just about how you look,' but about where your products are from, how they are used and the packaging they come in. This is a trend in itself which will continue to grow as people are increasingly aware of the environment and the damage that we humans can cause to it for the sake of ourselves. You'll see more and more makeup products which have a lot of thought behind them as well as some really cool looks this season:

Sustainability
The beauty industry is hot on what its consumers care about and is now united on cutting down the impact of plastic pollution. You'll see an increasing amount of new thoughtful packaging strategies as they are being launched every day.
Lush is at the forefront of the zero packaging movement by making products in solid form, from shampoo to make-up and earlier this year the company opened the first packaging-free cosmetic shop in the UK.

Diversity And Inclusion
The beauty industry is now focusing on important issues and has demonstrated a greater variety of great colour ranges to meet the needs of different ethnicities, genders and ages and is really promoting inclusive marketing; however, there is still a lot to be done.
Watch this space though, for smaller brands catering to specific skin tones and types; there's a lot more to come this year.

Skin-healing Solutions
After anti-ageing, the skin healing category saw the most significant growth in skincare last year, with Google searches about to 'cica balm' up by 800 per cent compared to 2016.
This is a multi-purpose repairing balm which combines powerful essential oils including Eucalyptus, Rosemary, Niaouli, and Geranium which soothe, repair and protect. Cica balm hit the shelves earlier this year so you can no doubt expect similar products to appear on the shelves this year.
At-Home Facial Tools
Today, people are investing in skin care like never before, and it is no surprise that the facial tool market is booming. Massage devices such as my Facialift, facial steamers and derma rollers are already on the market, and this year it looks like there will be an increase in smart tools which can assist in tracking the efficacy of beauty regimes and products by providing real-time diagnostics.
Look out for more development of smartphone-connected beauty devices and tools that provide a more personalised solution. Neutrogena's Skin360 is a good example, it is a sensor-based skin-scanning device which comes with an app to measure your skin moisture, pores, lines, and wrinkles over time.

Effortless Glamour
What would you say to polished skin, with accents of single bold colour? What about minimum effort but maximum impact? Sounds too good to be true, right? Gone on the days of layers upon layers and it taking ages to get the right look.
This year is the year for using skincare and make-up to achieve a luminous, almost wet look to the base, replacing heavy foundations and powders luminous tinted moisturisers and face oils. Then with a sheer, luminous base, you only need a standout matte lipstick, the most comfortable accessory to wear or you can wear lip stain instead for lightweight and long-lasting.

Soft Contouring
Highlighting and contouring will always be popular though, but they will be far more subtle. Check out this how to contour and highlight guide by AVON so see the ways you can achieve this.

Invisible Brows
Bet you never thought you'd see the day when brows would no longer be as big and as dark as possible. Actually, this brow movement has meant that more people are experimenting with their eyebrows and some people are trying out bleaching them. People are not afraid to try something new any more.

Self-Expressive Styling
Costume makeup including big, bold looks will look amazing at parties this year. Stick-ons have found their way into the mainstream as a key festival look and now look set to become more opulent, so expect to see stick-on faux pearls and colourful gems not just at festivals this year.

Innovative Perfume
Did you know there were new ways to buy and use perfume? This year, you will see more fragrance brands investing in ways to appeal to new markets in the digital age because, as you know, you can't smell the internet. To combat this, the fragrance industry is thinking outside the box and becoming more creative.
Jo Malone recently created her Jo Loves Fragrance Paintbrush which allows you to apply or top up your favourite fragrance with its quick-drying gel formula. Expect to see more perfumed powders, solid sticks, cushions and tissues to scent us in a different, modern, way.

Techy Product Packaging
Glossier went all out with its most recent fragrance launch with gesture-based packaging. The solid balm version of the fragrance 'You' fragrance was launched in a weighted metal compact which has been designed to fit the curve of your palm and thumb. You open and close just as you would flip through your smartphone. It features a flippable hinged swivel which is really cool and you should expect to see more brands cleverly designing sleek products such as the magnetic Match Stix which are easier to find in your makeup bag.

Shimmer, Not Glitter
A little glimmer of shimmer in the corners of the eyes looks a lot fresher and cleaner than heavy glitters. So, when you're applying your highlighter, sweep the product from your cheekbones to your temple and on your lids, too. It's the same technique that Fenty Beauty global makeup artist Priscilla Ono uses.

Glowing Skin
Good makeup starts with even better skin so taking care of your skin is now one of the most important things to people than buying the right makeup. Glowy or dewy skin was really popular last year, and it will continue to be a look that people are going for. Aside from skincare, many brands continue to sell products like cheek gloss and dew pots that offer a fresh glow.

Blotted Velvet Lips
Smooth "blotted velvet" is another lipstick texture that dominates the everyday makeup scene this year. So if you don't want to pass on matte just yet, give this softer, almost airbrushed-like approach a go instead. Check out brands like ColourPop and Glossier who offer blotted lipstick, so you don't have to get messy with tissues and papers.

Flushed Blush
Blush is often very underused but offers an easy way to add colour and 'mood' to the face.

Unconventional Eyeliner
The cat eye looks set to be reinvented in more ways than one in 2019. Black liners and pigment are expected to take a temporary backseat to brown and deep metallic hues, while shape-wise, the floating crease eyeliner trend is here to stay.

Revamped Red Lips
You can also never go wrong flaunting a bright red lip; however, "deeper shades of wine and earthy reds" are becoming classics all their own. You could also consider having a lip injection to achieve the kind of lips you want. Here's what you need to know about going for your lip injection appointment.

Playful Eyes
Bright pops of colour on the eyes will again, without a doubt, make their way into 2019. To nail the look, and to channel your inner model, use your favourite bold eyeliner to create a single dot below your lower lash line — it's that simple but also guaranteed to make a chic statement.
More Beauty Tips and Guides
Keep reading about my personal beauty tips and ideas. Here are some of my favorites: