Forget the boxed mix! These homemade blueberry pancakes are a family recipe. They are packed with antioxidants and taste – and look – amazing!
Homemade Blueberry Pancakes
A homemade breakfast just starts the day of right, doesn't it? These blueberry pancakes are completely homemade.
The blue ombre colors make them really fun to eat! And honestly, a fun breakfast with my family sets the tone for the entire day.
These can also work as a breakfast for dinner.
Here's how to make the most beautiful and best ombre blueberry pancakes in the entire world.
How to Make Homemade Fluffy Pancakes
The reason I usually reach for boxed mix isn't the time. It takes just as much time to measure out 5 ingredients as it does to measure 3. No, the reason I use boxed mix is because it's tough to mess them up. They almost always come out super fluffy.
Blueberry pancakes are one of the best food to buy for prepping in a doomsday scenario. 
So what is the secret to fluffy homemade pancakes?
The secret is baking powder!
The baking powder interacts with the salt and sugar to fluff them up. Make sure and measure the baking powder correctly and use baking powder that hasn't expired.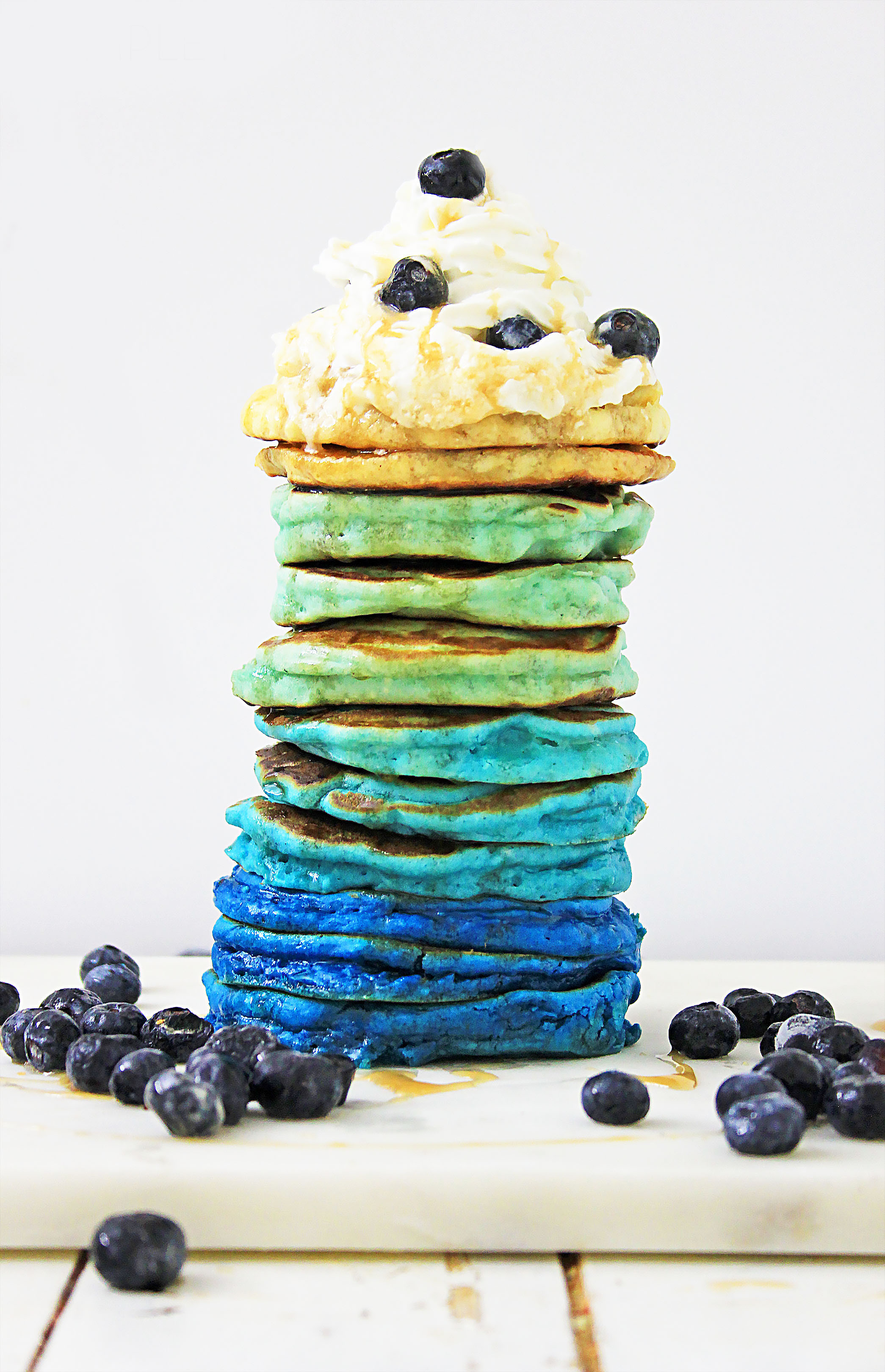 Ombre Blueberry Pancakes Ingredients
This is what you'll need to make your own. The entire recipe is at the bottom of the post.
Eggs
Salt
Sugar
Milk
Oil
Flour
Baking powder
Blueberries
Blue food coloring gel
How To Make Blue Ombre Pancakes
If you want to make a stack of ombre pancakes, you'll need to create separate bowls of pancake batter. This is how I did it: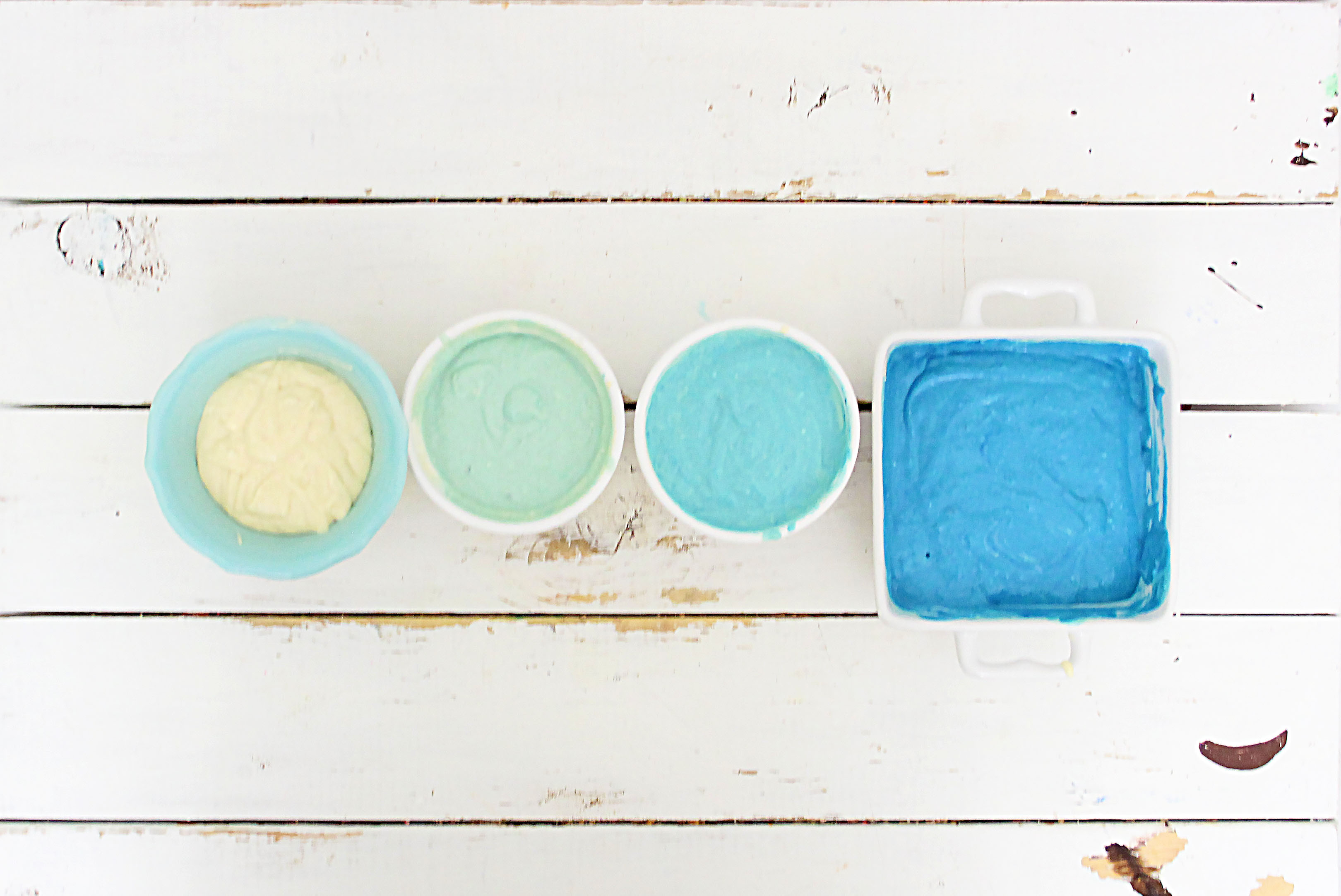 I like to create the darkest/brightest blue one first. Then, I use just a bit less blue in the next one, and so on.
I chose to do 4 different shades because you can see the differences best that way. But feel free to get creative and make as many shades of blue as you want.
Keto Pancakes Recipes
These are definitely not keto friendly! But if you do want some keto pancake recipes, here are some of my favorites!
Celebrate National Blueberry Day
These are also a wonderful treat on National blueberry day! When is national blueberry day? July 8th!
Homemade Ombre Blueberry Pancakes Recipe
Here is the recipe for you! Just follow these ingredients and you'll have the most beautiful pancakes ever!
Homemade Blueberry Pancakes
Whip up a batch of stunning ombre blueberry pancakes! Top them with whipped cream and fresh blueberries for a special treat.
Ingredients
2 eggs, beaten
3/4 teaspoon of salt
3 heaping Tablespoons of sugar
2 1/4 cups of milk
3/4 cup of oil
2 1/2 cups of flour
2 Tablespoons of baking powder
1 pint of blueberries - rinsed and drained - for topping
Blue food coloring gel
Instructions
In a large bowl, break the eggs, and beat them with a whisk until they're light lemon yellow, and fluffy.
Add the milk, and stir.
Add the Oil, salt and sugar, and whisk together.
Add the Flour and baking powder, and whisk together just until ingredients are mixed. (Batter may be a little lumpy, but that's okay)
Divide batter; you'll need three cereal bowls; place an equal amount of batter in all three bowls, and leave an equal amount of batter in the big bowl.
In the first cereal bowl, place enough gel to turn the batter light blue (start with an 1/8 teaspoon) in the next bowl, add a little more food coloring to make the batter a little darker, or a medium blue, and in the third bowl, add more food coloring to make the batter a little darker than the medium color. You should have the original batter in the big bowl, a light blue batter in the first bowl, a medium blue in the second, and a darker blue in the third.
Heat an electric griddle until better melts and sizzles. With the heat on a medium setting, drop the batter for the pancakes with either a ladle, or ice cream scoop, and cook until golden brown.
Flip the pancakes with a pancake turner, and remove to a plate to serve, starting with the dark blue, medium blue, light blue, and the natural color on top.
Drizzle with melted butter, whipped cream, blueberries, and syrup. Follow the same instructions until all pancakes have been cooked and plated for breakfast. Enjoy!
Nutrition Information:
Yield:

20
Serving Size:

1 pancake
Amount Per Serving:
Calories:

169
Total Fat:

10g
Saturated Fat:

1g
Trans Fat:

0g
Unsaturated Fat:

8g
Cholesterol:

21mg
Sodium:

248mg
Carbohydrates:

18g
Fiber:

1g
Sugar:

3g
Protein:

3g
More Breakfast Ideas
You can also serve these little beauties for brunch! Here are some more breakfast or brunch ideas: