Find the perfect printable cruise packing list for you and your family. I found the 10 most through and cute packing lists and put them all in one place.
What to Pack for A Cruise
Whether you have been on a cruise or this is your first time, it is always a little overwhelming to try and decide what to pack.
I remember my first cruise. In fact, I shared everything I learned from my first cruise – give it a read. Some of the things I experienced I had no idea about before I went!
The stress around packing is the most high if you decided to book a last minute cruise. But even if you had months to plan, these lists will be a huge help.
No thinking, no worrying. Let these travel experts do all the hard work. All you need to do is follow the list and enjoy your time on the boat!
Free Printable Cruise Packing Lists
Cruises can be so much fun. But if you forgot something, it can be super expensive to replace.
That is why a packing list is so important. Just check off things as you pack and you won't forget a thing.
I found the 10 best free printable cruise packing lists online. Take a look and pick out the one that meets your needs the best. Then, click over to the website, download them, and print them! It's so easy.
1. Cruise Packing List With Day Bag
I love this list – it is so beautiful and easy to read. Plus, it explains the importance of a day bag on a cruise. This is a super-thorough list. It is a touch dated (who uses an iPod today?). But it is so detailed that you won't forget a thing.
Find this on Cheap is the New Classy.
2. Compact Packing List
If you like to pack light, this list is for you. This has everything you need without very many extras that might weigh you down.
Find this one on Travel Eat Blog.
3. Categorized Packing List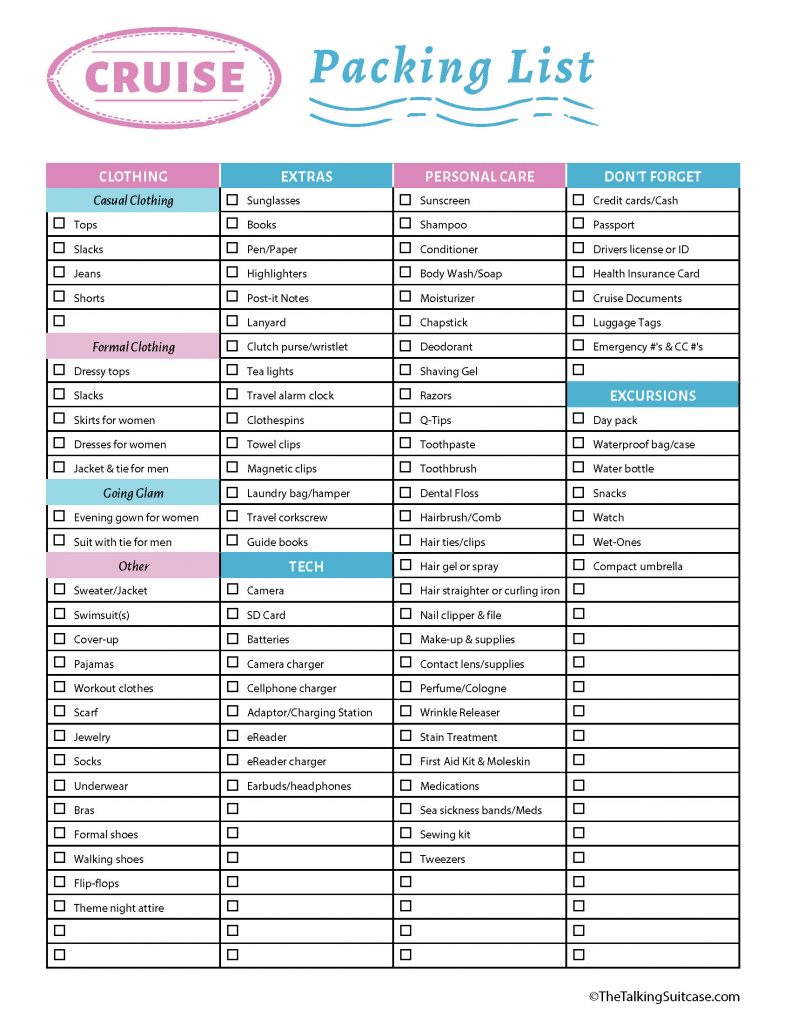 Isn't this list so beautiful? I love the blue and pink design. But I really enjoy all the extra spaces where you can write your own items on it!
Because no matter what, there is always something you need to bring that won't be on these pre-made lists.
Find this one on The Talking Suitcase.
4. Ultimate Cruise Packing List – 2 Pages
This one is extremely detailed. It is so complete, that it takes up two pages.
Print this one if this is your first time on a cruise. It's always better to have more than you need so you are prepared.
Find this one on Lamberts Lately.
5. Customizable Packing List
Trish Sutton made a beautiful list. I especially appreciate how she left a space for you to write in the number next to the checklist, so you can remember how many of each thing to pack.
Download and print this from Trish Sutton.
6. His, Hers, and Kids List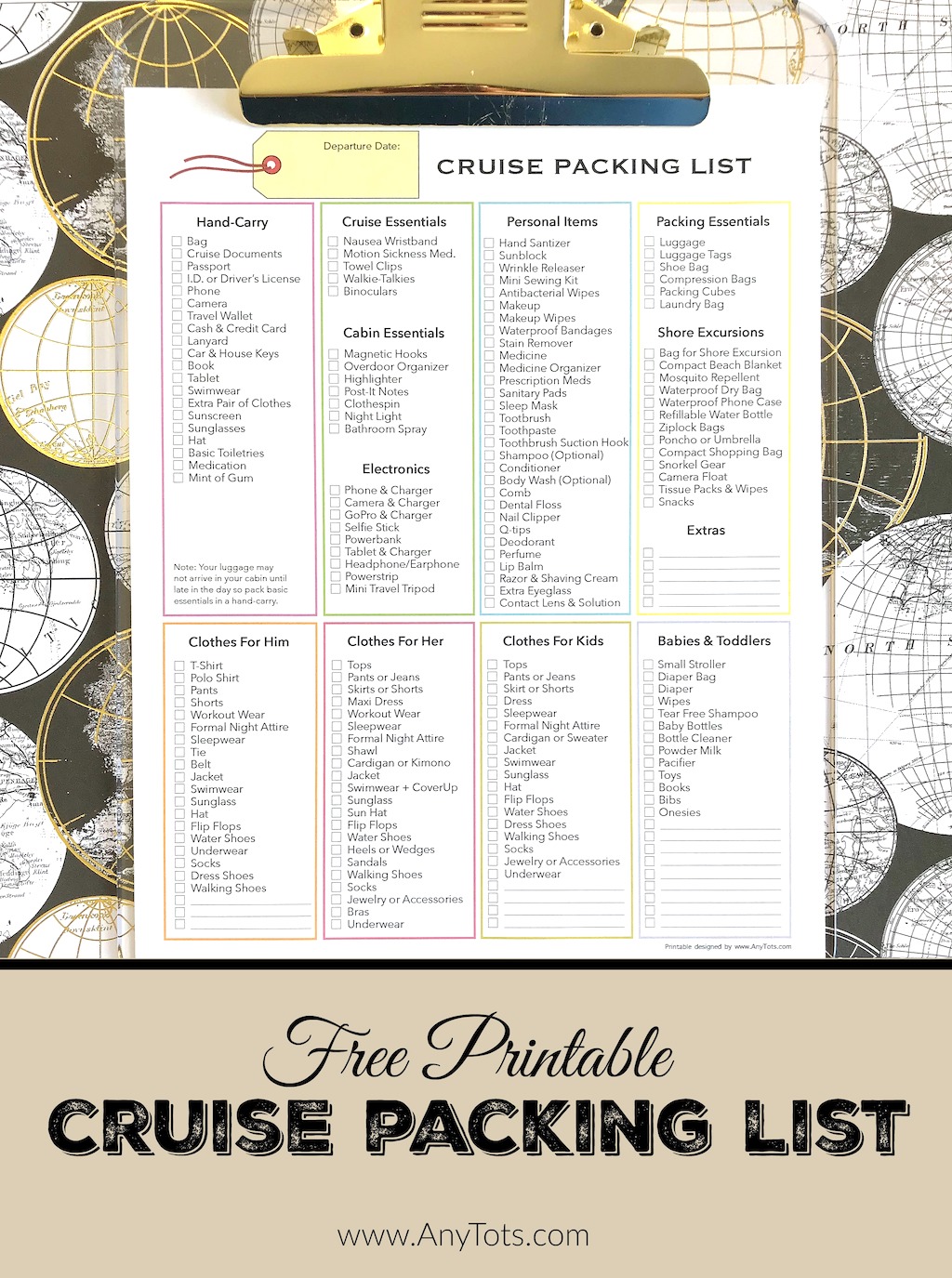 Yes, you can put "pack clothes" on a list, but this list breaks it down by his, hers, and for the kids. That way you can go through and pack for each person and not forget about yourself.
Download and print this from Any Tots.
7. Simple Printable Packing List
Whether you want a list that won't use a lot of ink or you really want to pack light, this is the perfect list for you. It is sublimely minimal and utilizes lots of white space.
Download and print this from Polka Dot Chair.
8. Daily Packing List
Seasoned travelers – this one is for you! If you already know what you want to pack and don't want to rely on someone else to create the list, then this blank list is perfect.
It splits the packing up by day so you make sure you have everything you need every single day. And you can use this again and again for each cruise – whether it is to Alaska or Mexico.
Download and print this from Somewhat Simple.
9. Questions to Ask Printable List
There are some very important questions you should answer as you pack for your cruise. Y Travel Blog wrote these questions on their free checklist. It's such a huge help. Plus, the orange and blue design is adorable.
Find and print this list from Y Travel Blog.
10. The Muster Station Printable List
Finally, if you want a checklist that stands our from all your other papers, this stunning one in different shades of blue is divine!
It has spaces for you to write your own items. It also splits it up by type and category.
Find and print this list from The Muster Station.
How to Make Your Packing Lists Last Longer
After you find the packing list that you like best, just print it once. Then, laminate it.
You can use a fine-tipped dry-erase marker to check off the items.
If you do it this way, just printing it one time will make this list last for years!
More Free Printables
After you print out your favorite cruise packing list, come back and find some more printable that will help you and your family stay organized.
Here are my favorites!