It's so easy to make your own beautiful soaps! Learn how to make this super fun DIY rainbow soap. Perfect for anyone that loves unicorns, mermaids, or just bright and fun colors.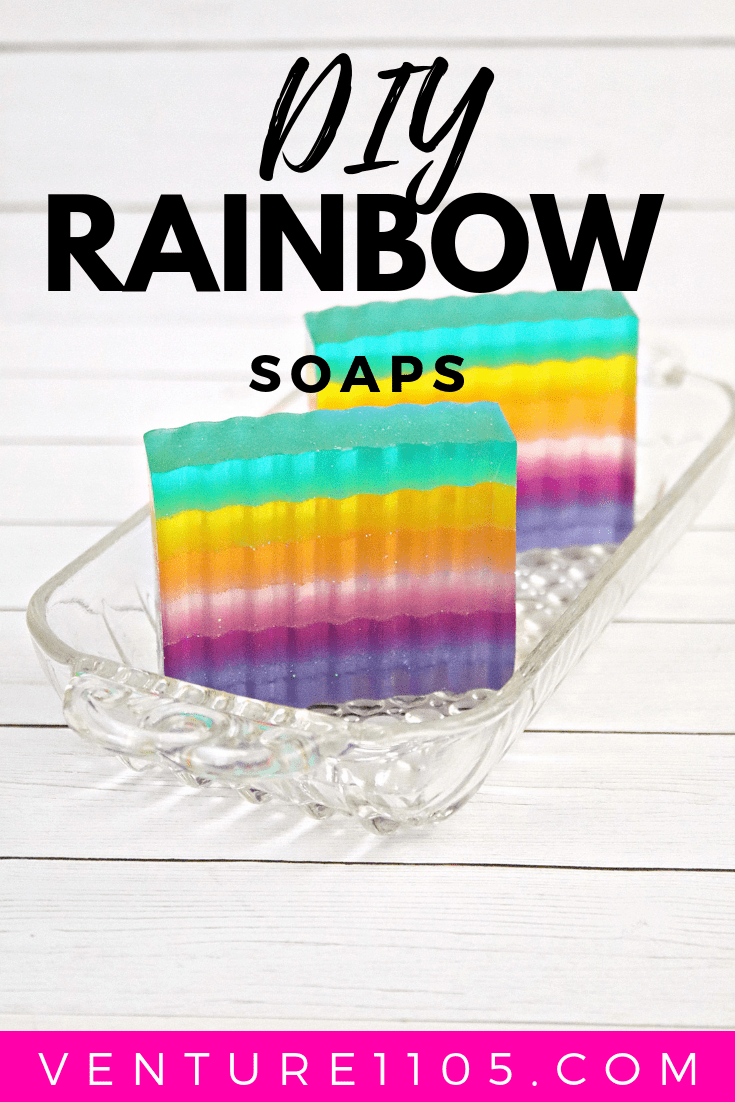 How to Make Rainbow Soap
There are a few crafts that I seriously love – and they have to do with DIY beauty products. This is one of them. The best thing about making DIY bath stuff is that you can use it when you're done!
Oh, and they make excellent gifts too.
This soap will fit beautifully in almost any bathroom theme. It looks like mermaid soup, or a rainbow. It can also fit perfectly in with unicorn decor.
This is a beginner-level craft that makes you feel like a crafting pro. So go to your local craft store, pick up the supplies, and let's make some soap!
Homemade Soap Video Tutorial
This video shows you how to make the soap. Watch it or scroll on down and see the step-by-step pictures and detailed instructions.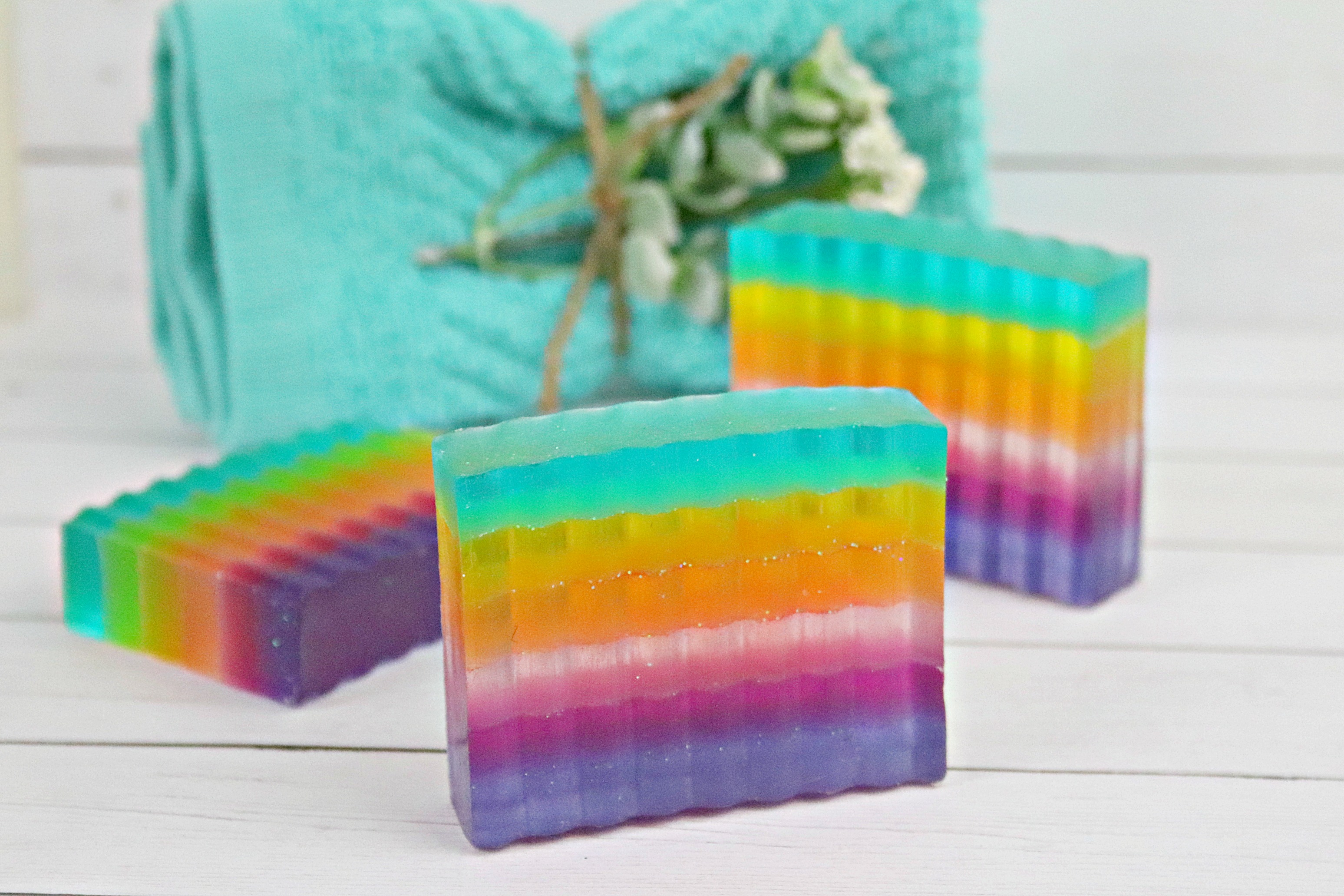 DIY Rainbow Soap Supplies
Here is what you will need to make your soaps.
1 pound melt and pour clear soap cut into cubes (each cube is approx. 1 ounce)
1-2 drops each of teal, yellow, orange, pink, purple and violet soap coloring
Fresh apple soap scent
Teal cosmetic glitter
Yellow cosmetic glitter
Orange cosmetic glitter
Pink cosmetic glitter
Purple cosmetic glitter
Violet cosmetic glitter
Spray bottle of rubbing alcohol
Loaf soap Mold and cutting tool
6 microwave safe bowls or measuring cups
Can you skip the glitter?
Yes, you can skip the glitter if you are afraid of the mess. But I have to admit, it really makes the soap look extra fun!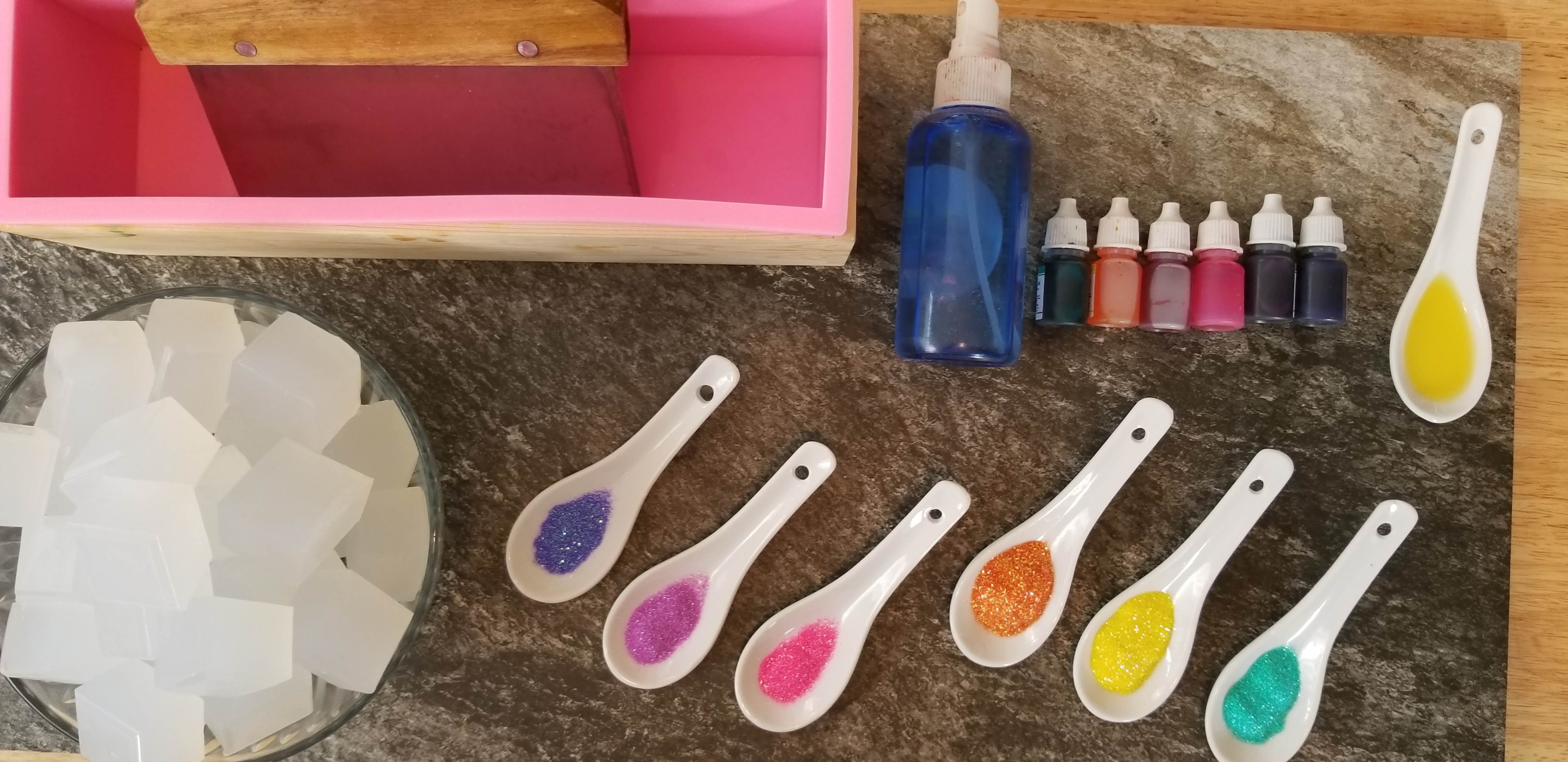 DIY Unicorn Rainbow Soap Tutorial
There are really just a few steps that you repeat over and over as you make each of the 6 layers. It's as simple as melting the soaps cubes and filling the mold.
Here's how to make the rainbow soap with step-by-step pictures.
1. Melt the Soap Cubes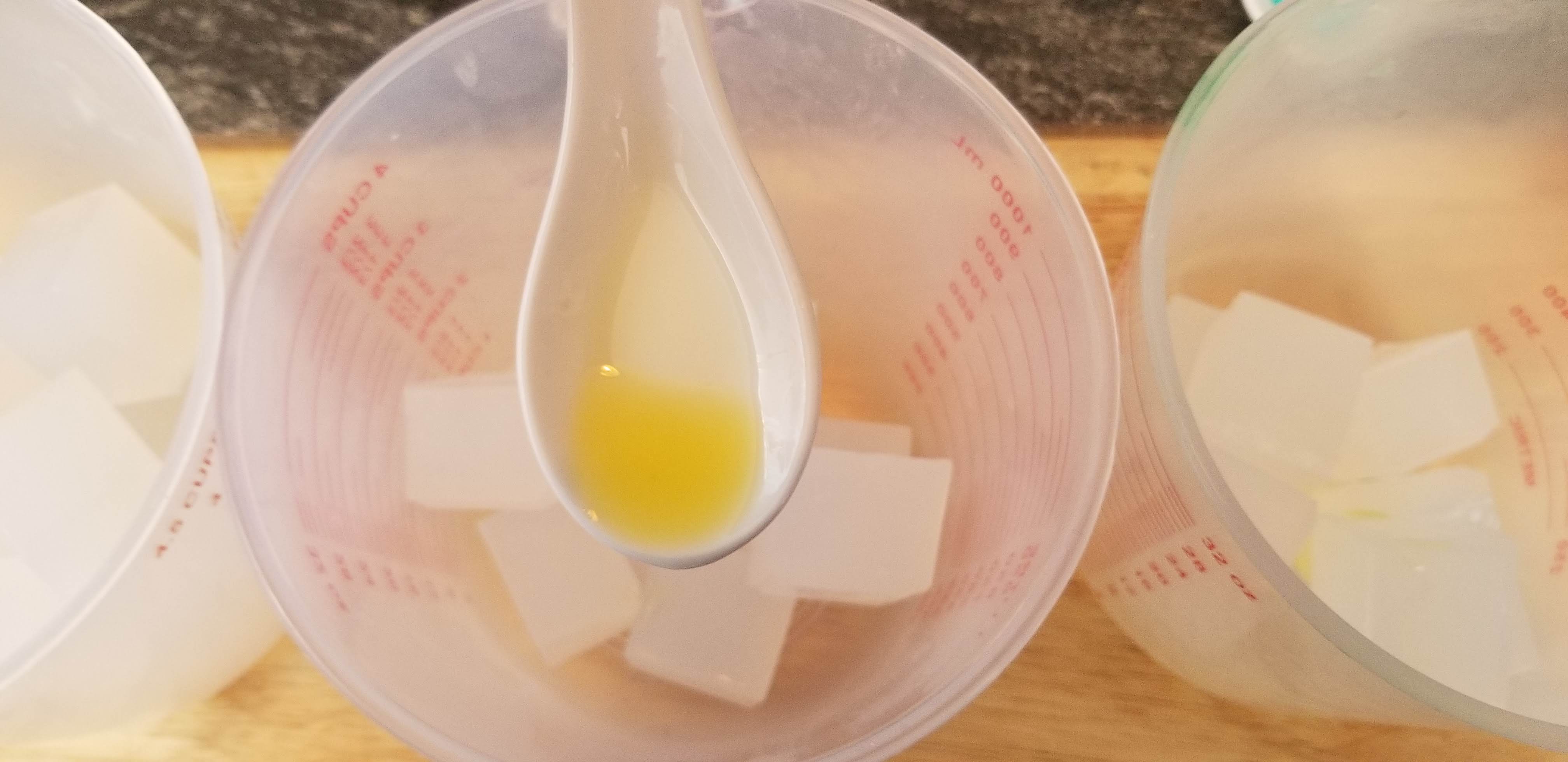 Split up the soap cubes as evenly as possible in 6 microwavable bowls or cups. Add 1/2 teaspoon of apple soap scent to each container.
Then, melt the soap cubes in the microwave.
It will help to do them in 30-second intervals, stirring them each time.
When all of the soap cubes are melted, set the bowls aside. Now you are ready to create your colors.
2. Add Coloring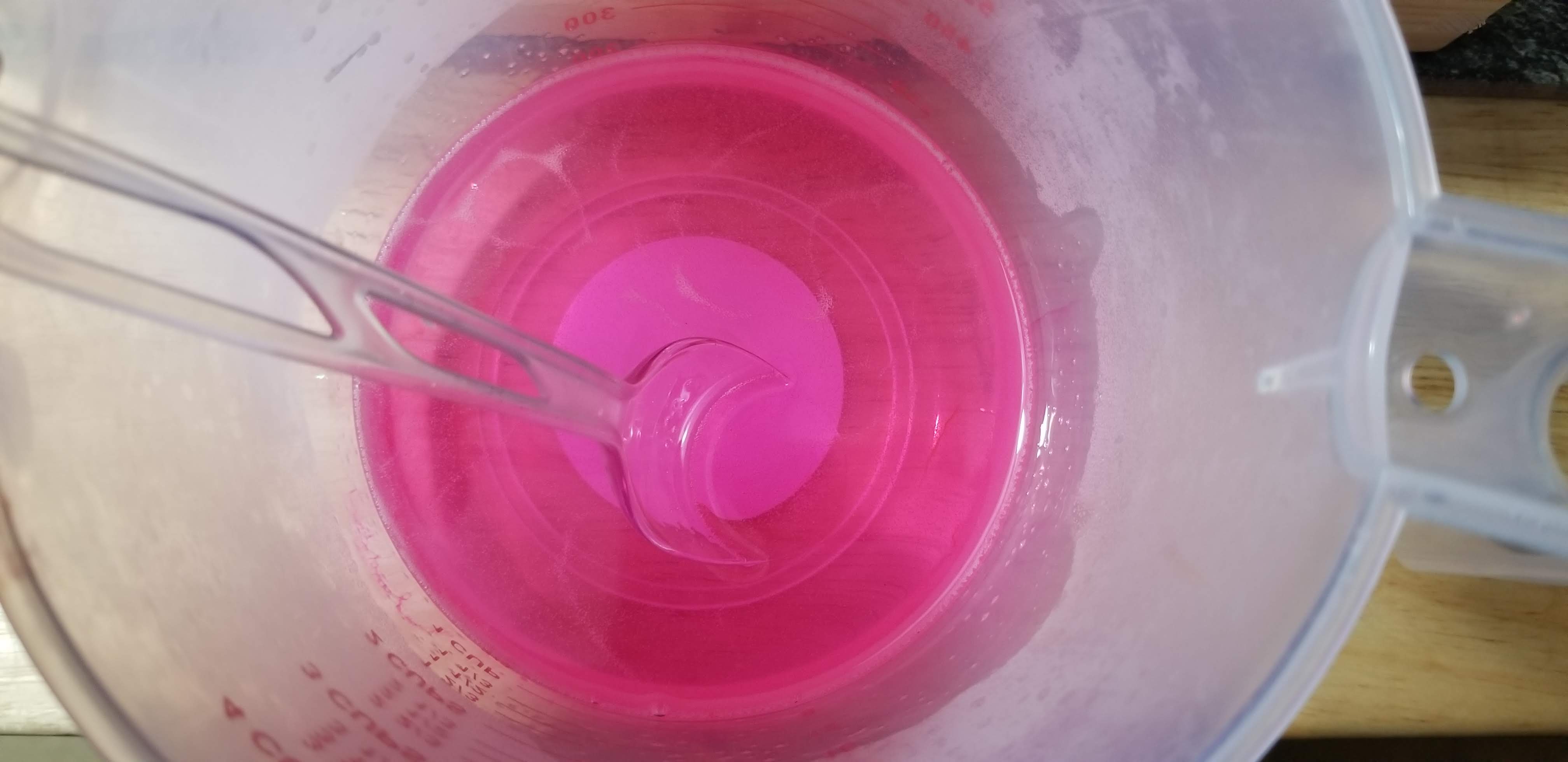 In each container, add the soap coloring. Start with 1-2 drops in each container and stir. If you want it darker, add a few more drops.
This soap looks prettiest when it is light and has a high trasparency, so don't use too much coloring.
3. Mix in the Glitter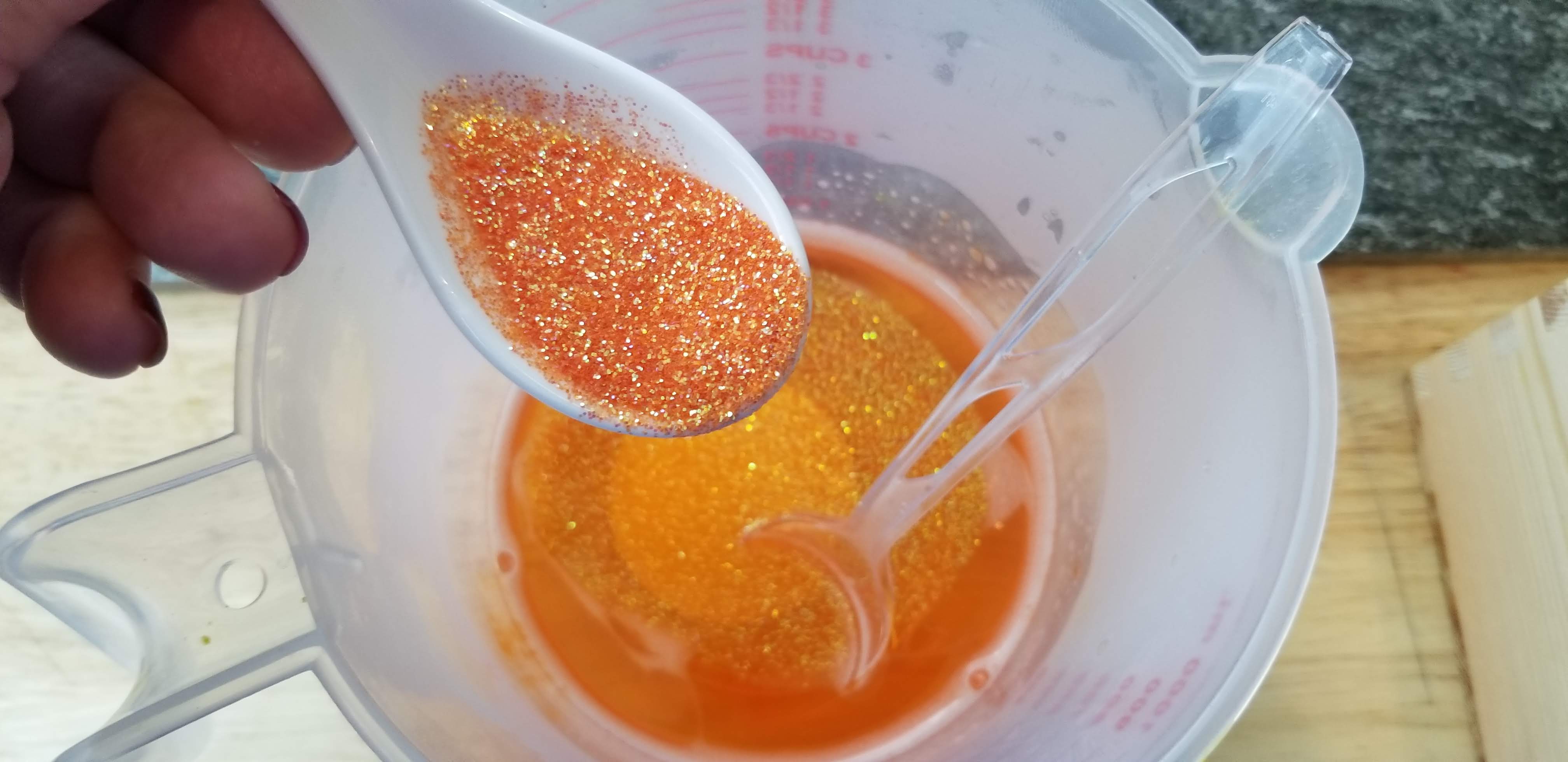 Now you are ready for the glitter! This is the best part! Stir in the glitter and watch it shimmer.
4. Begin Layering the Melted Soap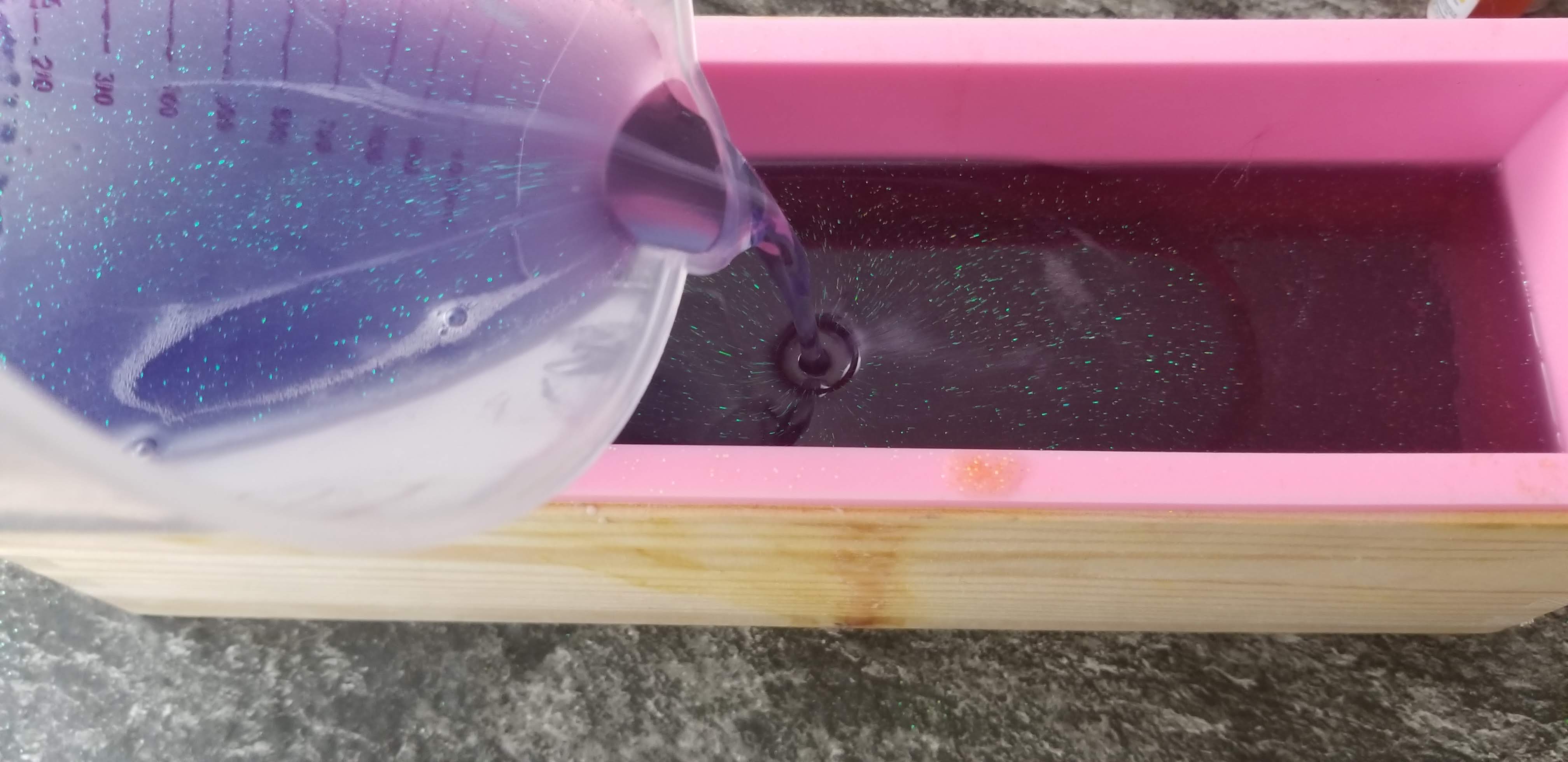 After all of your colors are mixed and ready, you can begin filling your soap mold with the layers.
This is the order in which I poured the soap:
Teal
Yellow
Orange
Pink
Purple
Violet
5. Spray Rubbing Alcohol in Between Layers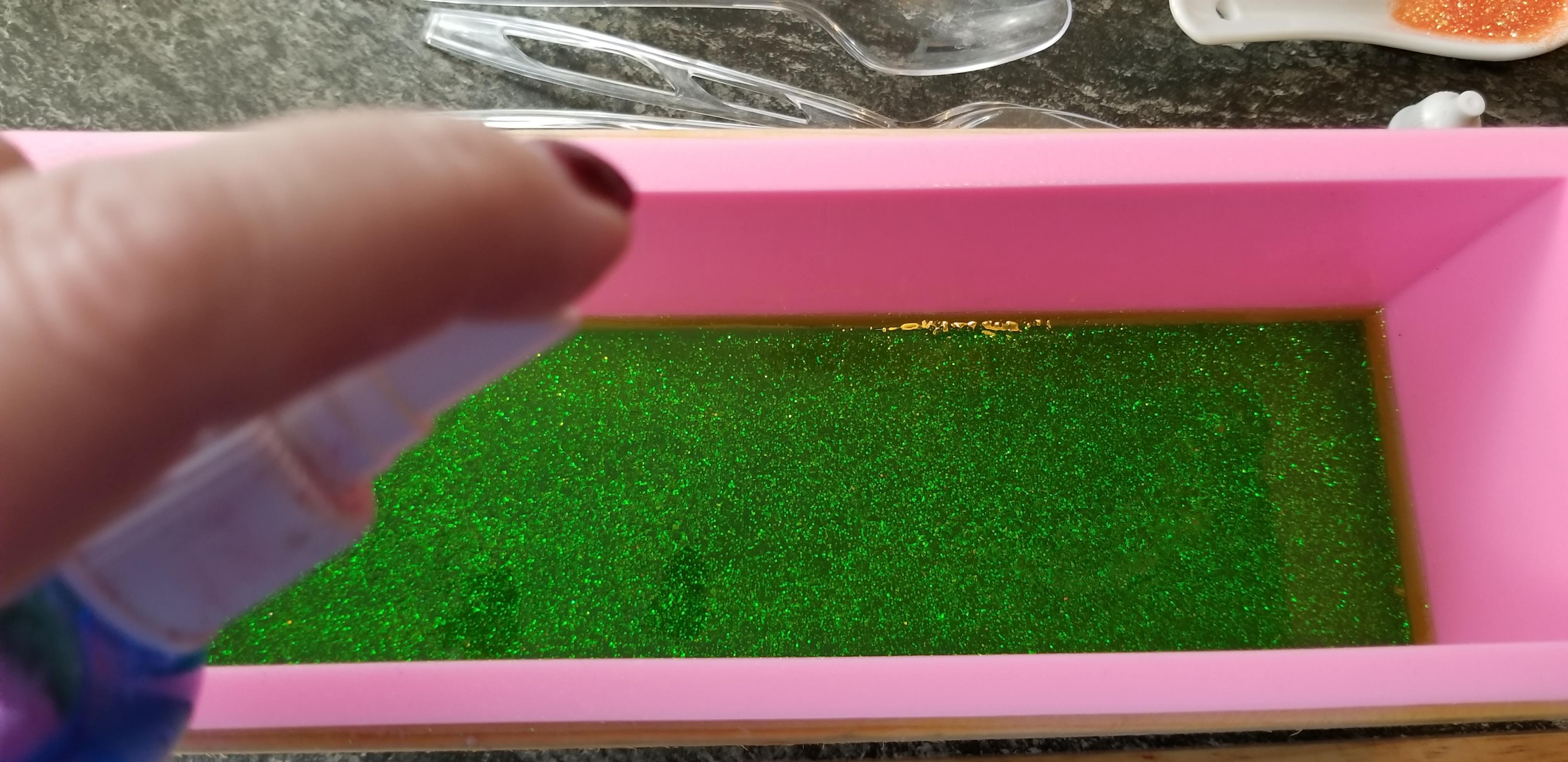 This is very important! After you pour each layer, spray some rubbing alcohol on top of it.
This will prevent air bubbles from forming in the soap.
It will also help the layers to stick together better.
Let each layer harden before adding the next one.
Don't get so excited that you pour the layers of soap before the last one is set. How can you tell when the soap is ready for the next layer? Lightly blow on it. If you see ripples, the soap needs more time.
6. Let it Cool and Harden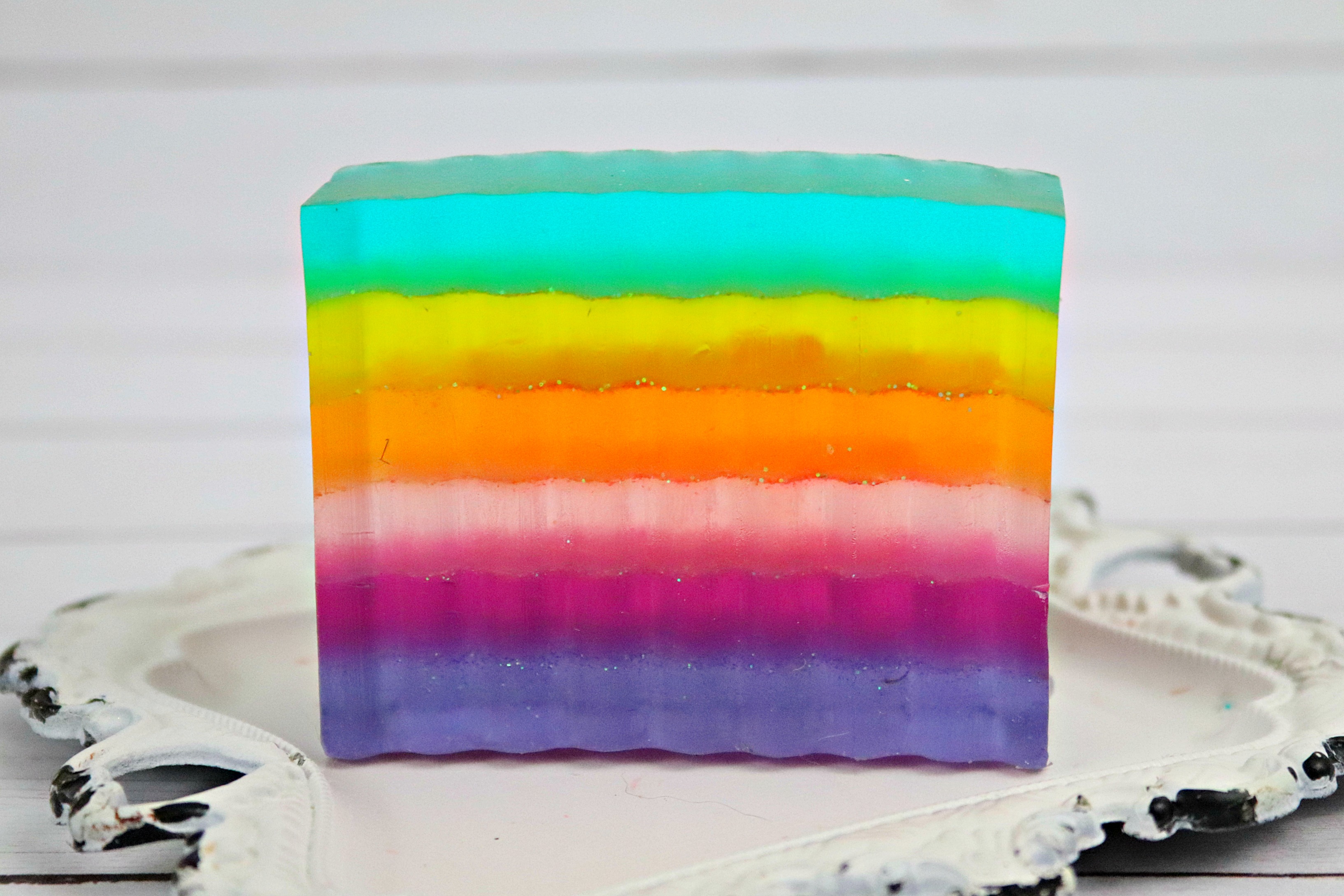 That's it! Let it sit overnight in the mold.
When you are ready to get it out, just use your fingers to gently pull the mold away from the soap and with a bit of coaxing it should release the soap.
Now it is ready to cut. I used a soap cutting tool that gives it that lovely wavy texture. It will come out looking like a loaf of bread, so you'll have to cut it into slices.
Other Shapes You Can Make
There are so many amazing and creative soap molds out there. You can even make some in the shape of unicorns and mermaids too. To do layers, I recommend the loaf mold. It's just so much easier.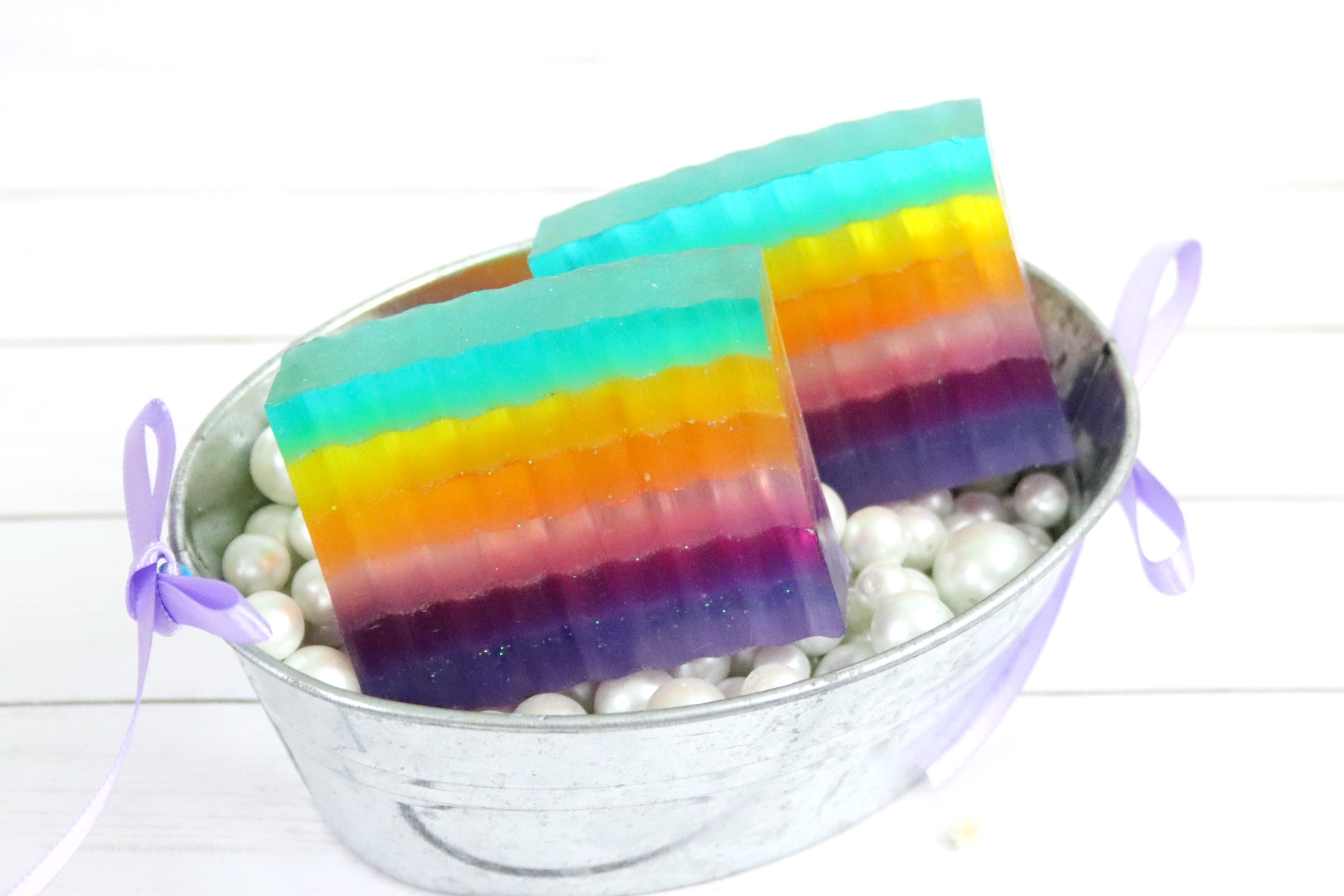 Can you use essential oils?
I used a soap scent, but you can definitely use essential oils instead. I love essential oils in DIY products. Just add 1 drop of oil into each layer.
Here are some of my favorite oils to use in soaps:
Lavender
Peppermint
Frankincense
Orange
Lemon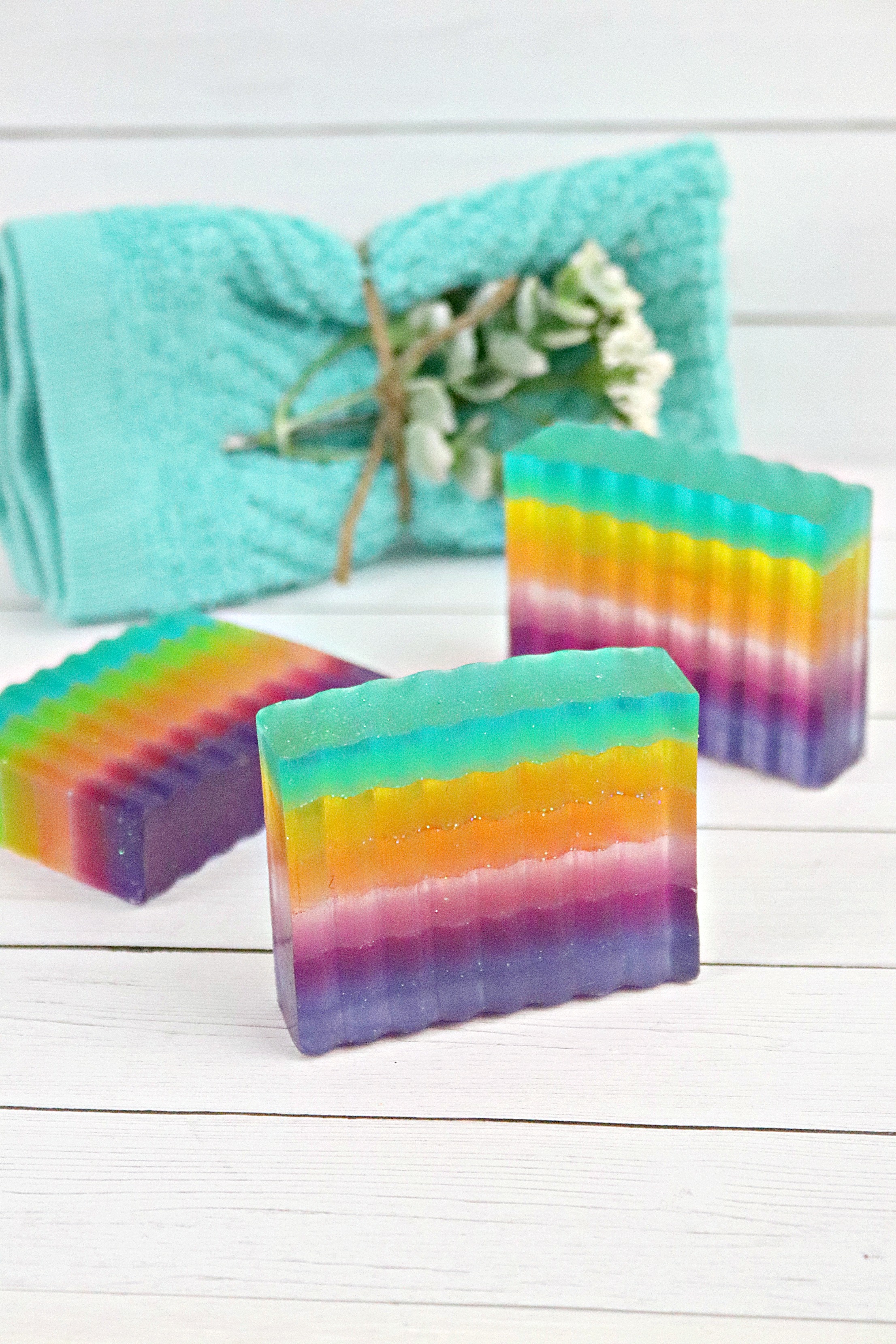 More DIY Beauty Tutorials
DIY beauty products make such wonderful gifts. Make a huge batch of them and then hand them out at Christmas, birthdays, weddings, or even as teacher appreciation gifts.