Macarons are little bites of Heaven! Learn how to make Butterfinger macarons that melt in your mouth.
Butterfinger Macarons That Anyone Can Make
Macarons are one of those desserts that all bakers love or hate. I spoke with a professional baker once that told me if the humidity in her shop was off even just a bit it made her macarons fail.
They are tricky little guys.
But they are SO good too!
Well, I have a fairly simple recipe with in-process pictures that will help you make them too. I'll also try to answer any baking questions to help you enjoy making macarons!
How to Bake Butterfinger Macarons
The entire recipe is in the printable recipe card at the bottom. But I have so much info to share first too. I hope all of this helps you make amazing macarons of your own.
Ingredients in Butterfinger Macarons
Here's what you need in your kitchen before you start baking. And, yes, they really do have Butterfingers in them!
Confectioners sugar
Almond flour (I recommend Bob's Red Mill)
Unsweetened cocoa powder (Hershey's is the best!)
Granulated sugar
Egg whites
Vanilla optional, or you can use your favorite extract
Salt
Toppings
Peanut butter chips (optional)
Butter at room temperature
Heavy whipping cream
Smashed Butterfinger bars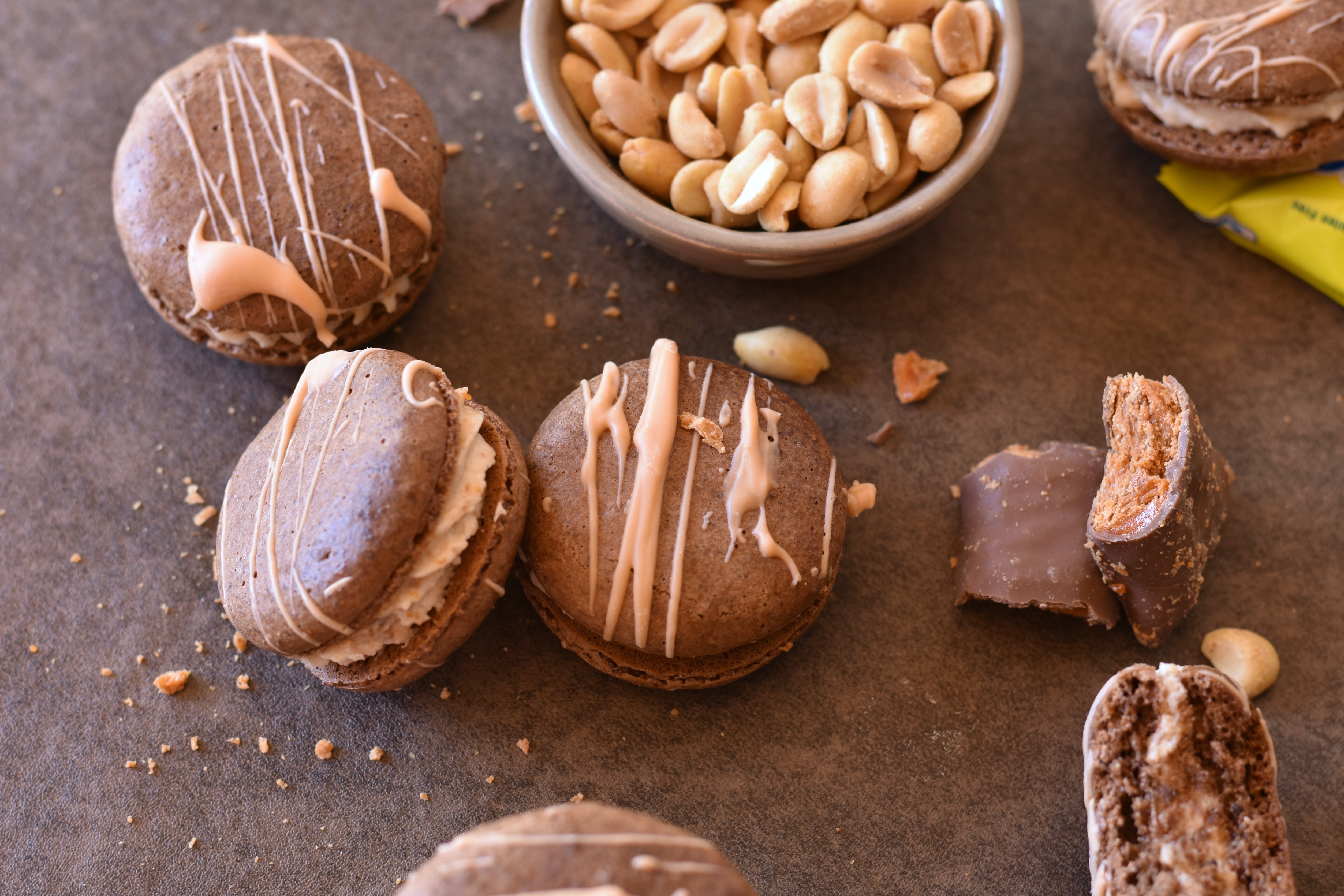 Making the Butterfinger Macarons
Here's some really helpful information for beginning bakers. These tips will help you avoid mishaps. But even if some of your macarons don't quite turn out right, keep trying. It's all about practice makes perfect with them.
Weigh the Ingredients
First, it's important to weigh out all your ingredients. Using ingredients by weight will really cut down on errors. It's very important to make sure you have the exact amounts.
Fold the Dry Ingredients
If you haven't ever tried to make a delicate meringue, be prepared to be really careful. When these are fully baked, you want them to be crispy on the outside and slightly chewy on the inside.
To get this magical balance, do not over mix the batter. You will do what's called folding in the dry ingredients.
Folding is much more gentle than stirring. Here's a video showing you how to fold.
Use a Piping Bag for the Batter
These aren't cookies. You will need to use a piping bag to put the macaron batter on the silicone sheet.
Make sure you are piping them all the exact same size and shape. This helps them cook evenly.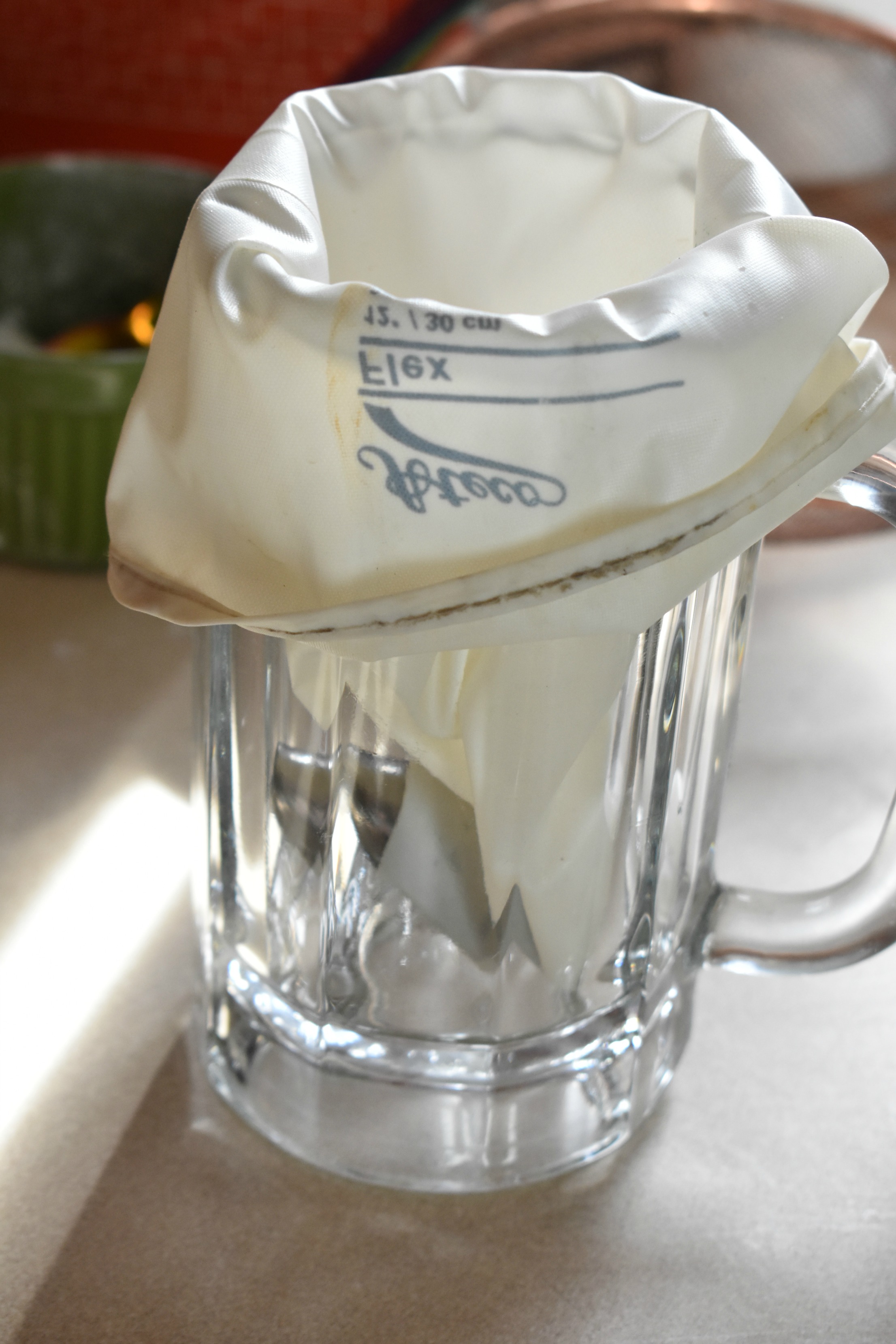 Remove the Air Bubbles
You'll need something sharp with a really fine point. After you pipe the batter onto the sheet, get rid of every single air bubble.
One really quick way to pop all the air bubbles is to bang the cookie sheet against the counter a few times. This settles the bater and pops most of the air bubbles.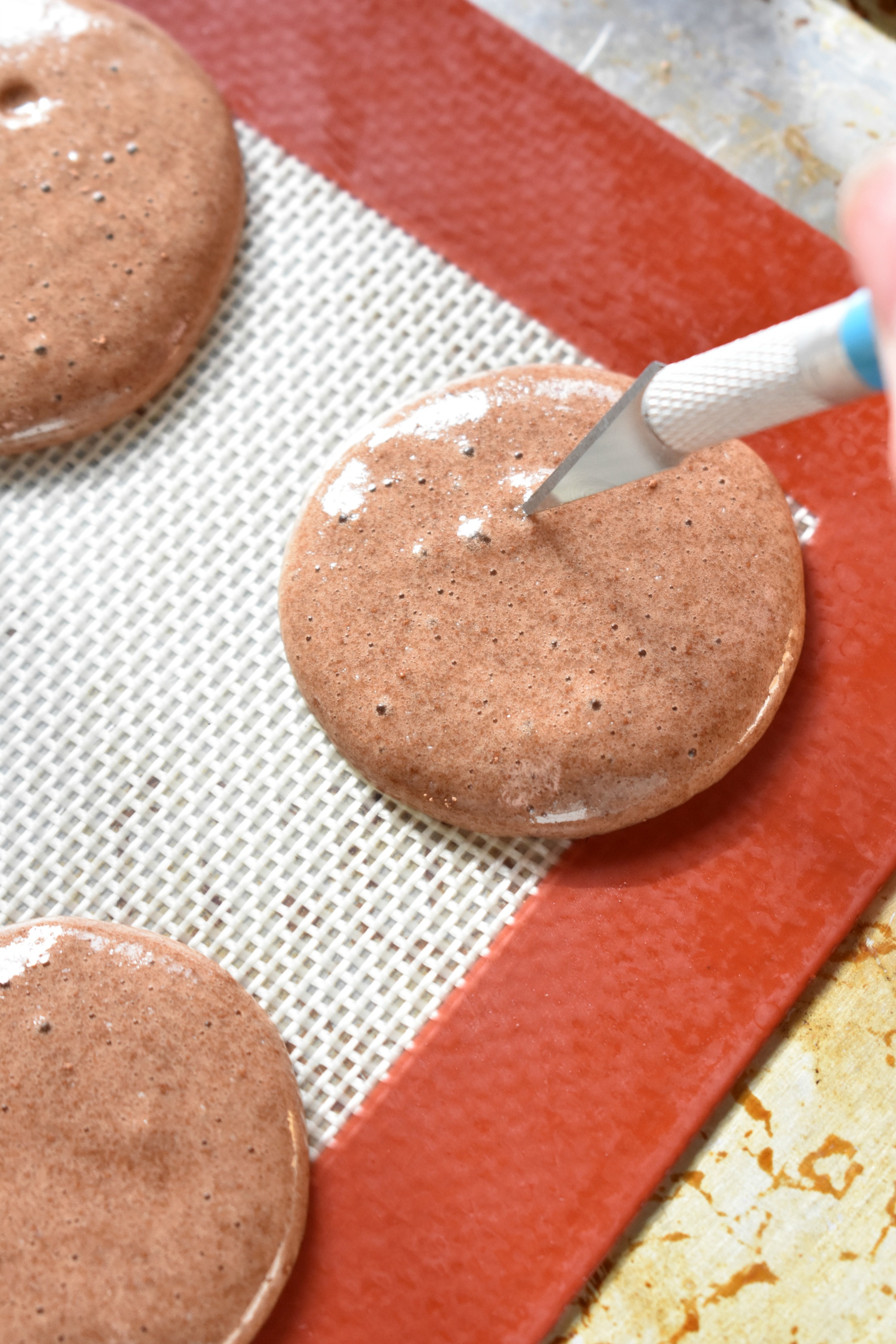 The Buttercream is the easiest part
Believe it or not, the macaron shells are the most difficult part of making macarons. The buttercream is simple.
While the macarons are baking you can whip up the buttercream. And believe me, you'll want to make extra buttercream. This tastes amazing on cupcakes too.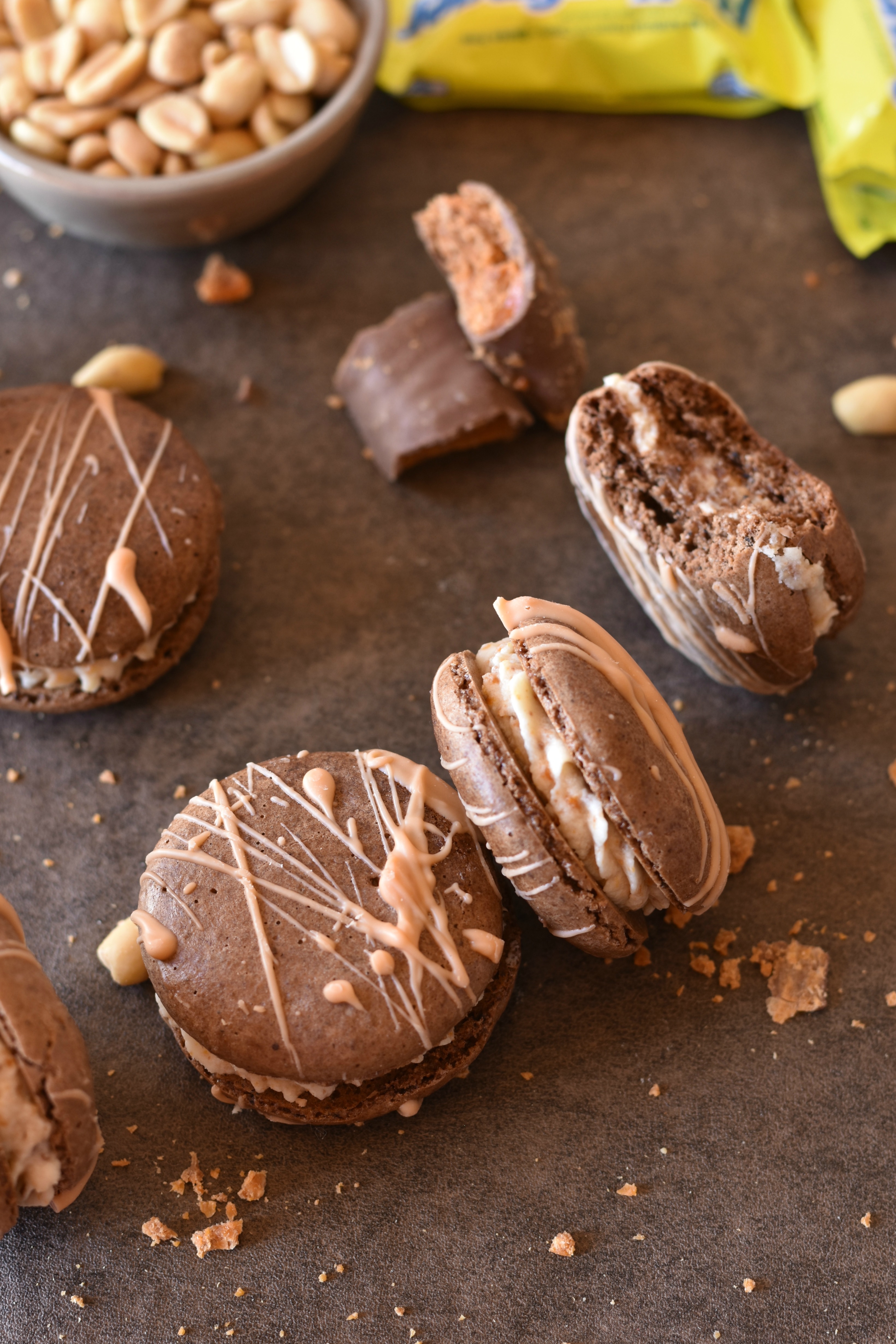 Are you ready for the recipe? Here you go! If you make them, let me know! I'd like to hear how they turned out! And don't forget to pin this post to your dessert board so you can find it later.
Butterfinger Macarons
These Butterfinger macarons are so easy a beginner can make them. Use the buttercream in other recipes too.
Ingredients
4 oz. confectioners sugar minus 2 tbsp
2 oz. almond flour (I recommend Bob's Red Mill)
2 tbsp unsweetened cocoa powder (Hershey's is the best!)
1 oz granulated sugar
2 oz. egg whites roughly two eggs at room temperature
1 tsp vanilla optional, or you can use your favorite extract
1/4 tsp salt
Toppings
Peanut butter chips (optional)
For the Buttercream
1 stick butter at room temperature
1 1/2 cups confectioners sugar
1 1/2 tsp heavy whipping cream 
1 tsp vanilla extract
1/8 cup crushed Butterfinger bars
Instructions
For the Macaraons
First, weigh out all of your ingredients.
Next, sift together your almond flour, powdered sugar, and cocoa powder in a large bowl and set aside.
Add your egg whites to the bowl of your mixer and start mixing on a medium speed until they get frothy. Add in the salt.
Gradually add in your sugar to the egg whites and mix on a medium speed until you get a soft peak consistency.
After the egg whites are the right consistency, add about 1/3 of the dry mixture to the egg whites and fold in until there are no dry spots left.
Add in the remaining dry mixture to the meringue and fold in until there are no dry spots. Begin to check for the "ribbon" stage, where the batter falls off in ribbons and you can make a figure 8 without it breaking off. Once you get to this consistency stop folding.
Prepare your piping bag with a small round tip. Place your bag in a large cup to make it easier to add your batter. Slowly add in your batter.
Place a silicon mat on a baking sheet.
Hold your piping bag completely vertical when piping and lift straight up. Making about 1 1/2 to 2 inch circles.
After you have piped all the batter, bang the baking sheet on the counter 10-20 times (seriously) to remove all air bubbles. Use a toothpick or something sharp to pop them.
Now it is time to let them dry. Leave them sitting on the counter for 30-60 minutes until you can touch them and you can feel a "shell" form over them. No batter should come off on your finger.
Preheat your oven to 300 degrees F. and bake your macarons for 10-15 minutes or until lightly browned. When you touch the top of the macaron it should not wiggle around on the "feet".
Allow them to cool COMPLETELY before taking them off the baking sheet.
For the Buttercream:
Place the butter in the bowl of your stand mixer with a paddle attachment and cream until light and fluffy. Add in the confectioners sugar and mix until combined.
Add in the cocoa powder, vanilla extract, and cream and mix until combined.
Add in the crushed Butterfingers
Place in a pipping bag with a star tip and set aside
Melt the caramel chips in a microwave safe bowl with about 1 tsp of vegetable shortening or coconut oil
Using a fork, dip in the melted peanut butter chips and sling the peanut butter on top of the macaron shells. You can get creative with this part.
Pipe a circle of buttercream on half of the macaron shells.
Sandwich them with the remaining macaron shells.
Keep in an airtight container in the refrigerator for 24-48 hours to allow them to "mature". Be sure to allow to come to room temperature before serving.



Nutrition Information:
Yield:

24
Serving Size:

1
Amount Per Serving:
Calories:

106
Total Fat:

6g
Saturated Fat:

3g
Trans Fat:

0g
Unsaturated Fat:

3g
Cholesterol:

26mg
Sodium:

71mg
Carbohydrates:

11g
Fiber:

0g
Sugar:

10g
Protein:

2g
More Baking Recipes
As you keep baking, here are some more ideas to try next.