These little cups of pumpkin spice mousse are so delicious! It's like a little pumpkin pie, all your own.
These would be great additions to any dessert table, or to have around when you don't want to make a whole pie. They're easy, and come together quickly, and I know you're going to love them.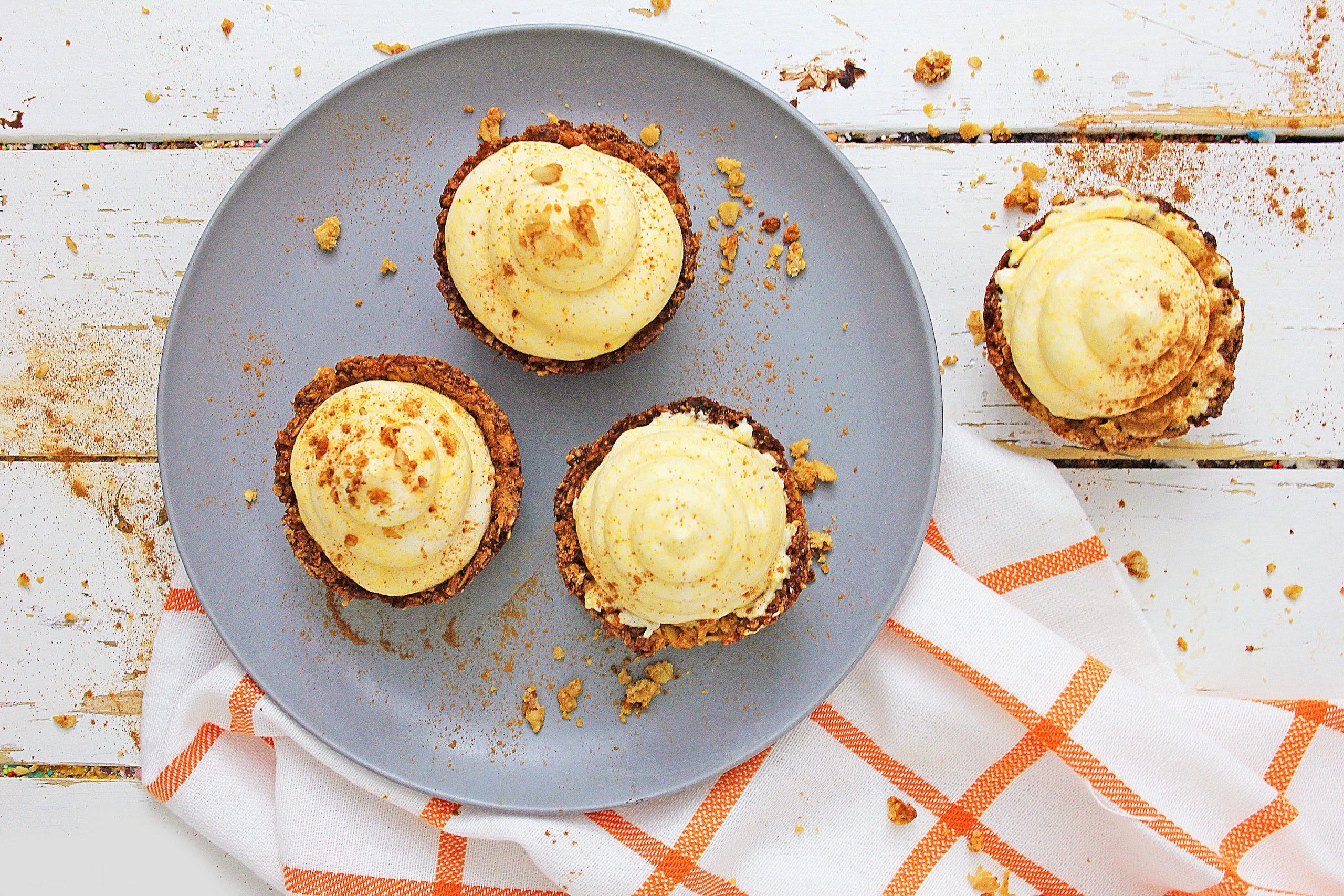 How To Make Pumpkin Spice Mousse Cups
These pumpkin spice mousse cups are indulgent! They are anything but low-carb. They are a sugar-filled delight.
Ingredients
There are three steps to this recipe – the crust, the pumpkin spice mousse, and the homemade whipped cream. Here's what's in them.
Oatmeal Crust
Quick-Cooking Oats
Butter
Brown Sugar
Honey
Peanut Butter
Maple Syrup
Pumpkin Spice Mousse Filling
Cream Cheese
Pumpkin Puree
Cinnamon
Pumpkin Pie Spice
Powdered Sugar
Vanilla
Homemade Whipped Cream Ingredients
Heavy Cream
Powdered Sugar
Vanilla
I told you there's a ton of sugar in them! It's worth it though. Since they are individual cups, it's easier to limit yourself and practice portion control, if you want.
Who says pumpkin desserts only belong in the fall? You can enjoy these little cups any time of year!
Save Time – Use Frozen Whipped Topping
I much prefer making my own whipped cream. I use it on lots of other desserts, even on top of my coffee. But if you don't have time or all the ingredients, you can just buy frozen whipped cream too. It works just as well as my homemade one.
How To Make Pumpkin Spice
The easiest way is to just buy the pre-made stuff from the store. You can even sprinkle it in your coffee for a little bit of flavor. If you want to make your own, I love this recipe.
Pumpkin Spice Mousse Cups
Additional Time:
20 minutes
These easy pumpkin spice mousse cups are filled with a rich, creamy filling on a homemade oatmeal crust.
Ingredients
Crust
3 1/2 cups Quick-Cooking Oats
1/2 stick of butter - melted
1/2 cup of brown sugar
1/2 cup of honey
1/4 cup of Peanut butter
1/3 cup of Maple Syrup
Mousse Filling
8 ounces of cream cheese - softened
1 cup of pumpkin - canned
1 teaspoon of cinnamon
1/2 teaspoon of pumpkin pie spice
1 1/2 cups of powdered sugar
1 Tablespoon of Vanilla
Homemade Whipped Cream
2 cups of heavy cream
1 cup of powdered sugar
1 teaspoon of Vanilla
Instructions
In a large bowl, combine the Oats, butter, brown sugar, honey, peanut butter, and Maple syrup, and blend until all ingredients are well mixed.
Place butter on your fingers and press the Oat mixture into a muffin tin until all the Oat mixture has been used - about 16 - 20 muffin spaces.
Place the muffin tin(s) in the oven at 400 degrees for about 10 minutes, or until the crusts are golden brown.
Remove the muffin tin (s) from the oven and allow them to cool for about 20 minutes, then remove the Oat cups from the muffin tins and place on Parchment paper to continue cooling.
In the mixing bowl of a stand mixer, place the heavy cream, powdered sugar and vanilla, and mix on low to blend. Scrape down the sides of the bowl, and mix again until all ingredients are completely incorporated.
Turn mixer on high, and whip the cream until it forms stiff peaks, 1 - 3 minutes, depending on temperature, and speed of mixer.
When cream is whipped, carefully place it into another bowl, and place in the refrigerator.
No need to rinse the mixing bowl, just add the cream cheese, and mix on medium speed until smooth and creamy.
Add the pumpkin, cinnamon, pumpkin pie spice, and vanilla, and blend until all ingredients are well blended together.
Add the powdered sugar a little at a time until it's completely mixed. Scrape down the sides of the bowl, and blend again, making sure there are no lumps of cream cheese.
Remove the whipped cream from the refrigerator, and gently fold into the cream cheese/pumpkin mixture, until blended, but do not stir, or over blend - so the whipped cream does not fall, or go flat.
Place the Mixing bowl with the Pumpkin Mousse filling in it, in the refrigerator. Check the Oat cups to make sure they are completely cool. If they are not cool, place the parchment paper on a cookie sheet, and place the Oat cups on the parchment paper, and place in the refrigerator until completely cool.
When Oat cups are cool to the touch, remove from the refrigerator, but leave them on the cookie sheet. Remove the Pumpkin Mousse filling from the refrigerator, and place the filling in a pastry bag with the star, or flower tip, and fill the cups with the Mousse filling up to a tip.
Sprinkle with cinnamon, or granola to enhance the tops of the mousse. Serve at once, and Enjoy!
Notes
If not serving right away - keep Mousse filled cups in the refrigerator until time to serve.  Mousse filled cups will keep in the refrigerator for up to 3 days in an airtight container, but, serve within 24 hours for best results.
Before whipping cream - place your mixing bowl, including the whisk attachment in the freezer for about  20 minutes. This will help to whip the cream to stiff peaks. 
More Dessert Ideas
Keep baking! Here are some more of my favorite dessert recipes.