The Hilton Garden Inn at the Mall of St. Matthews in Louisville, Kentucky, is the perfect place to stay with your family. This is what my experience was like.
Disclosure: I received a complimentary night's stay from Hilton Garden Inn. All opinions are 100% my own.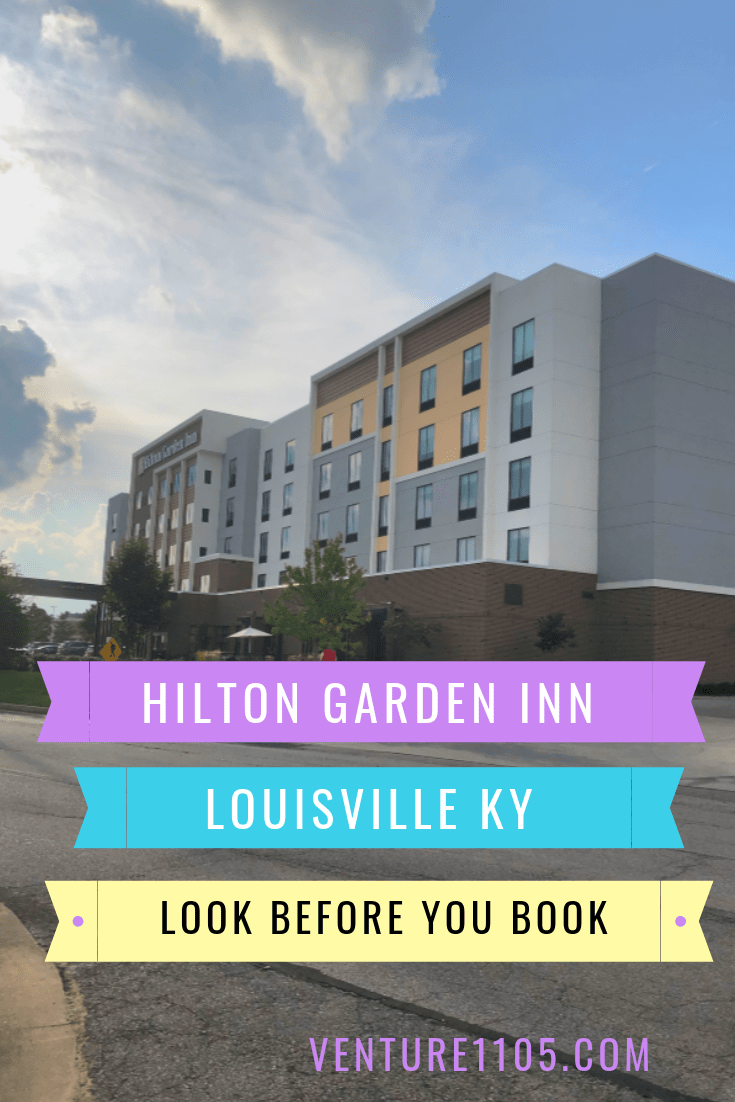 Hilton Garden Inn Louisville
Over the summer, our family stayed at the Hilton Garden Inn in Louisville. This one is located literally next to the parking lot of the Mall of St. Matthew.
I've stayed at (and payed for) Hiltons before. They are one of my favorite places to stay. They are always extremely clean, the staff is always super friendly (no matter where I am).
And they are always located right by places to eat and shop. And this one is no different.
If you are looking for a place to stay in Louisville, Kentucky, then put Hilton Garden Inn on your list! Check out all my photos and read through my experience.
Plus, I'll share information about their military appreciation and how to find discounts.
The Room
When we first walked in, the entire family was impressed with just how clean it felt! The air was fresh. It smelled like nothing, like just crisp and pure air.
This is really fantastic because have you ever stayed in a place where there is a humid or damp smell to it? I have. It isn't pleasant.
Not only that, but look at the picture I took before we brought in our luggage. Pristine! And lots of room for luggage and relaxing together.
Plus, there are plenty of outlets all within reach of the beds. The number of outlets was super important to us because with 2 adults, a pre-teen and a teenager, we had lots of devices to charge.
William's favorite color is orange. So the fact that just about everything in this hotel has orange in it didn't hurt!
As far as beds and pillow go, they didn't skimp! After being on the road all day, we slept hard that night. Woke up easily without any neck or back aches!
It also has a mini-fridge (for the leftovers from the Cheesecake Factory across the street!) and a microwave.
I didn't know what I was going to think of the sliding door. Turns out it's pretty effective and saves on space.
I didn't take a picture of it, but the shower head is one of those really large ones that can do like 10 different types of showers! It can even feel like gentle rain if you switch it.
The Lobby & Food
The lobby is super spacious. If we weren't so tired, we could have hung out down here for a long time. It's really great for meeting people and spending time together.
The restaurant/bar has tons of space. We didn't take advantage of it this time. We were just too tired. Plus, it was national cheesecake day so of course we ate at the Cheesecake Factory!
But the area pictured below is both the restaurant and the bar area. It has cooked-to-order breakfast, shareable small plates, handcrafted cocktails and craft beers.
I found out that every Hilton Garden Inn has these little shops next to the front desk. It's where you can buy snacks, coffee, wine, or things that are sourced locally.
As you can see in the picture below, the hotel in Kentucky sells local whiskey. Kentucky is known for their quality whiskey. With so many distilleries close by, it really makes sense.
Funny story: as I was checking us in, I made the mistake of saying to the clerk, "Oh I see you sell bourbon!"
She giggled and I knew my mistake as soon as I said it.
I learned that day that:
All bourbon is whiskey. But not all whiskey is bourbon.
This is Kentucky whiskey.
The weather was perfect for relaxing on the patio. And we almost did that. Doesn't it look so peaceful?
But as soon as I took this picture a couple came out and sat down and started to talk loudly. We were tired (and full from cheesecake) so we went to our room.
Hilton Honors Perks
If you are going to stay in a Hilton hotel, be a Hilton Honors member. It's worth it. You earn points that you can use towards free stays or higher tiers that give you more perks.
Plus, when we checked in I got a goody bag for being a member. It was filled with yummy snacks.
Read about how to become a Hilton Honors member and what all the different levels are.
Some of my favorite basic Hilton Honors perks include:
Guaranteed discounted, refundable, and changeable rate for members.
Complimentary in-room internet access.
Late check-out.
Of course if you stay at Hilton hotels enough times during the year you can move up to a higher tier and receive even more fun perks!
Frequent guests can earn these perks too:
Silver Tier – 5th night is free and 20% bonus on base points you earn (so you'll earn more points even faster)
Gold Tier – 5th night is free and earn 80% bonus on base points.
Diamond Status – Keep your status up to a year past the expiration date, 48-hour room guarantee (you will be guaranteed a room if you book within 48 hours), and 100% bonus on all base points.
But I was totally happy with the free food!
Military Appreciation
Does Hilton Garden Inn give military discounts?
Yes, they do! Hilton offers exclusive savings for active and retired military, veterans and their families on leisure stays.
Rates depend on the room and property. For more information you can view their rate-finder page.
In fact, the CEO of Hilton is personally thankful for all the members of the military and their families do and have done for our country. Here's the words right out of this mouth:
"Military veterans and their families have made incredible sacrifices for our country, and we are strongly committed to ensuring they have great jobs when they return home from service. We've always felt strongly about this issue since our founder Conrad Hilton himself was a military veteran, and we are very proud of our veteran Team Members who have contributed so much to our company."

– Hilton CEO and President Chris Nassetta
Fantastic Location
This was such an easy hotel to find! It's just a few minutes from the Interstate, but far enough away that you don't hear a bunch of highway noise at night.
Plus, it's right next to the Mall of St. Matthews. We literally walked as a family to the mall and spent lots of time browsing the shops and then ate some dinner.
If you are ever in the Louisville area and need a hotel, plan on staying at the Hilton Garden Inn. They know how to make you feel welcomed. It's a safe and relaxing place to call your temporary home while you are on the road.