If you want something fun to sing as you drive or do your work, then check out Mallary Hope's new album "Out of My Hands." It's going to put you in a happy mood and refresh your thoughts.

This is part of a sponsored campaign. All opinions remain my own.
Mallary Hope – "Out of My Hands"
I listened to the entire album. I discovered a few songs that are already my favorites! Here's my complete review of "Out of My Hands" and why I think you'll enjoy it too.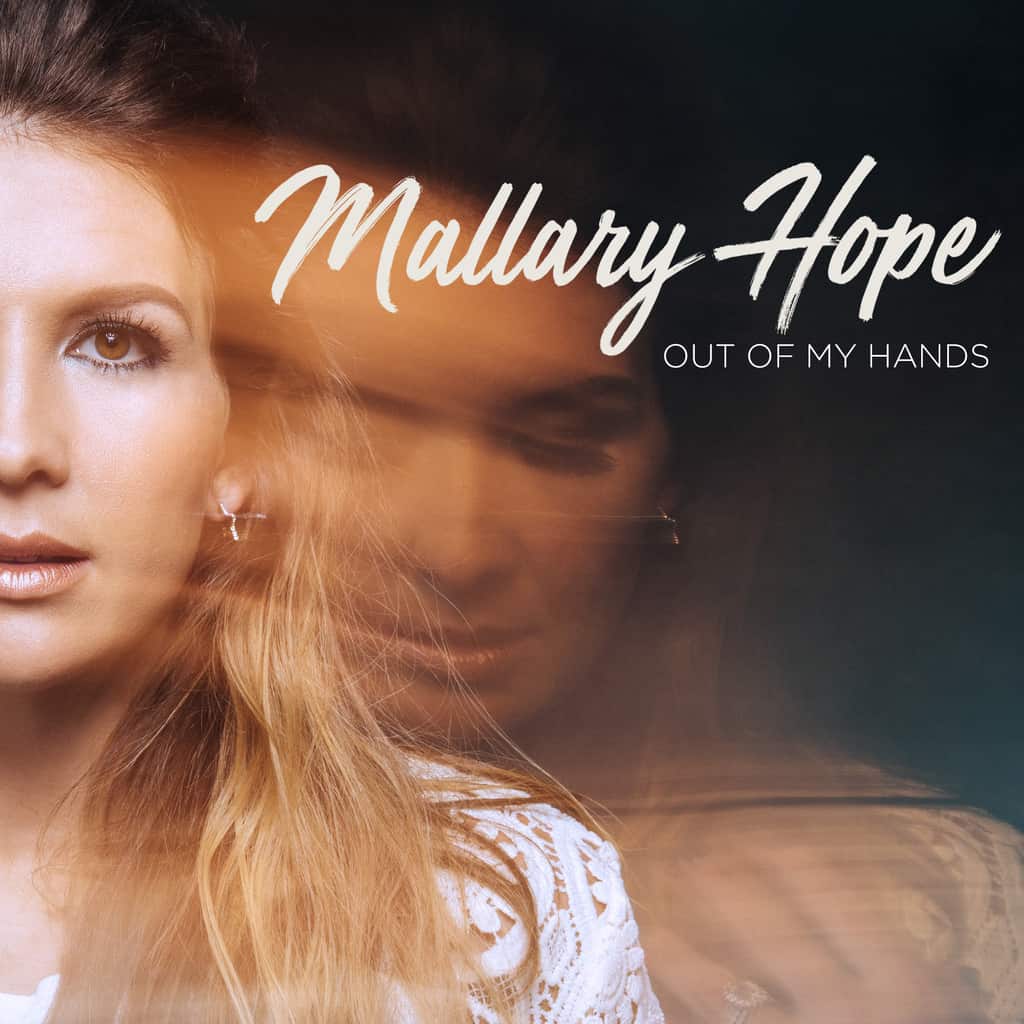 At first glance, the artwork shows Mallary both looking straight out and down at the same time. This is a really beautiful metaphor for my life too. How many times am I looking down and into myself when I should be looking straight ahead? There's always hope when I get my eyes off the problems and look at the possibilities!

Just like the cover artwork, I personally struggle with keeping my eyes on my Creator and seeing my blessings.

In fact, this struggle is within a lot of Mallary's songs on this honest album.

Track Listing
These are the names of the songs on her album:
You Will Make A Way
Looking Back At Me
3:16 (No Greater Love)
Pray With You
Walking With The Light
Me
Out of My Hands
Lay it Down
Love More
Home to the Water
Now
My Love
My God
Yours
Saving Me
Lay It Down (Acoustic)
My God (Radio Version)
The Song "Me" – How It Impacted My Life
I could have written this song. In fact, I've had these same feelings and thoughts ever since high school. Just read these powerful lyrics from the song:
I can be me

A broken mess You knit together perfectly

A child You'll love no matter what the world may see

In Your eyes there's no one else I need to be

I just need to be me
It's a song about loving the person that you were created to be. This is a song I play around my daughters. It's a message I hope they learn while they are young.

"Just as I am is all You ever wanted!" That lyric says so much. We don't have to hate our flaws. We are made the way we are. Sure there might be some things that we keep trying to improve. Like personally, I'm working on taking a breath before I speak because I'm easily excitable and want to come across more in control.

But at my core, I'm still a wonderful person. In fact, my favorite lyric from the song is, "there's no one else I need to be." How many times do I compare myself to others? I wish I had her smile. I wish I had her skin. I wish I was as organized as her. STOP! I am me. ME IS PERFECT.

Please, if you know someone struggling with self-worth, let them hear this song. It's a message that I hope spreads like wildfire.

Watch this video and then share it with your friends. It is POWERFUL.

"Love More"
My 2nd favorite song on the album is "Love More." The entire message is about loving even when you don't feel like it. And boy do I relate to that!

Just listen to these lyrics:
When the kids in the backseat screaming

And your patience is wearing so thin

Show em grace that they can't afford

Love more



Yup! I relate to that so much. It's so loving to just take a breath and extend love over selfishness.

The only lyric that I struggle with is where she tells people to just "love more" when they are looking at divorce. As someone that personally experienced a divorce, it isn't that simple. You can't just love someone more and fix years of emotional abuse.

But I believe this song is more light-hearted and simple than all that. It's really short and just a playful reminder to always act out the love that God has for you.

"My Love"
The other song that really gripped my heart is "My Love." Mallary wrote this song with such relatable lyrics. She shows that life isn't always sunshine and smooth sailing. But there is hope even in the brokenness.

The chorus is written from God's perspective. And singing it out loud reminds me over and over how deeply I am loved – just as I am. And that promise is so powerful!
My love will never let you go

Will never turn away

Look at my scars and know

The price is already paid

Nothing you have done

No distance you could run

Nothing's ever gonna change

My love



This is a slower song, with a sweeping chorus. Her strong but delicate voice is perfect for these vulnerable truths. Play this song when you feel unloved and unworthy and remember how deeply you are loved.
Music That Inspires You To Keep Going
It's amazing the power of vulnerable lyrics and certain beats and notes, isn't it? When I find an album that makes me feel happy and can motivate my good moods, I have to share about it! Give Mallary Hope's album a listen. You will love it too! Buy the new Mallary Hope album today – your heart will thank you!