I adore essential oils. They are so rejuvenating and some of them just smell amazing. I used to simply dab a drop of my favorite essential oil blend on my wrist through the day. But after Essential Charms sent me a necklace to review, I can't imagine diffusing the oils any other way. This wearable essential oils diffuser jewelry is amazing!
—Note— This post was originally published in April 2018. Since this was published, Essential Charms has closed their doors. I am SO sad to see them go. These really are beautiful and useful accessories.
I found some other lovely wearable essential oils diffusers for you to check out instead. Thank you!
What Are The Best Essential Oils?
I've written before about the best essential oils. Basically, you want to make sure you are purchasing a pure grade essential oil that isn't filled with artificial fragrances. The more pure the essential oil, the better it is for your mind and body.
Right now the two biggest contenders in the essential oils market are Young Living and DoTERRA. I don't personally sell either one, and I have spoken with people that do. From my personal perspective, you can't go wrong with either of them.
Essential Oils For Anxiety
Some essential oils and essential oil blends are better for anxiety than others. If you suffer from anxiety, you want an oil that will clear your mind, relax your heart rate and calm your thoughts. The best essential oils for anxiety are lavender (because it is a very calming oil) and cedar wood (it releases serotonin in your brain). The next best that you want to try are rose essential oil (it promotes peace) and orange/citrus oils (for uplifting and overall well-being).
Essential Oils Diffuser Jewelry
This is the first time I have ever worn an essential oils diffuser jewelry and I will never go back to putting oil on my skin. I love how I can smell the oils throughout the entire day.
You can find jewelry on Etsy and Amazon that are wearable necklaces and bracelets out of sterling silver and lava stones.
Lava Stones Essential Oil Benefits
I didn't realize this until now but lava stones have actually been used for centuries to relieve anxiety and calm emotions. When you put your favorite essential oils on the lava stone, you are actually increasing the power of both.
Plus, I personally noticed that I was able to smell my essential oils longer throughout the day when I used the necklace, as opposed to putting on directly on my skin. I used less essential oils this way (your results might vary).
Where to Buy Essential Oils Diffuser Jewelry
I have a heart for small businesses, so I always try to support them first. Here are a few diffusers I found on Etsy. Go check them out! (I receive nothing for this, just sharing some pretty diffusers I found from small artisans).
1.) Nukayla Beauty
Shop her Etsy shop! She make gorgeous jewelry that will stand out from other pieces you own. I am a huge fan of her diffuser charms (like the one pictured below).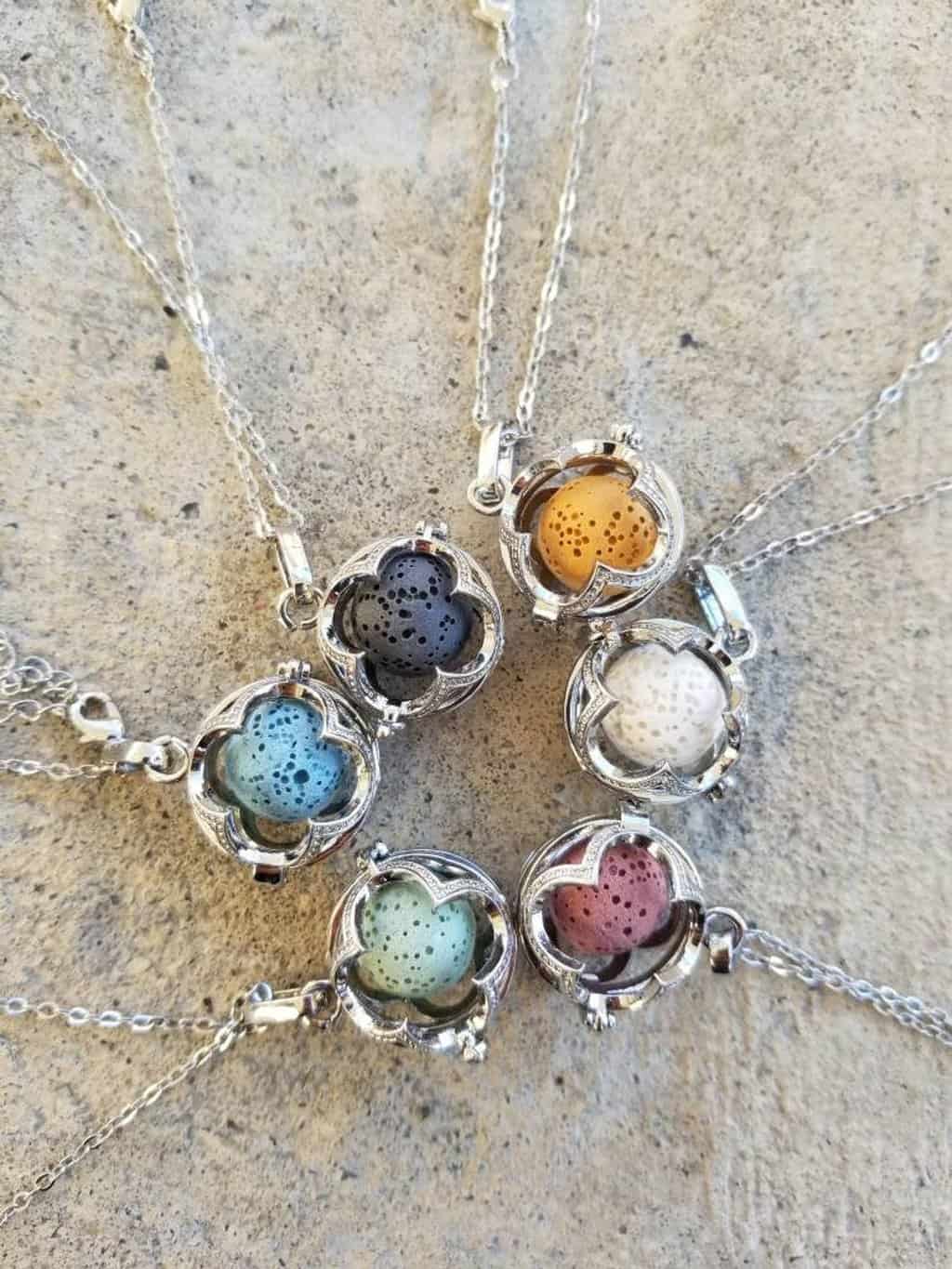 2.) Half Moon Design Shop
Half Moon Design Shop sells triangular lava stones in a variety of colors. Buy their necklaces today!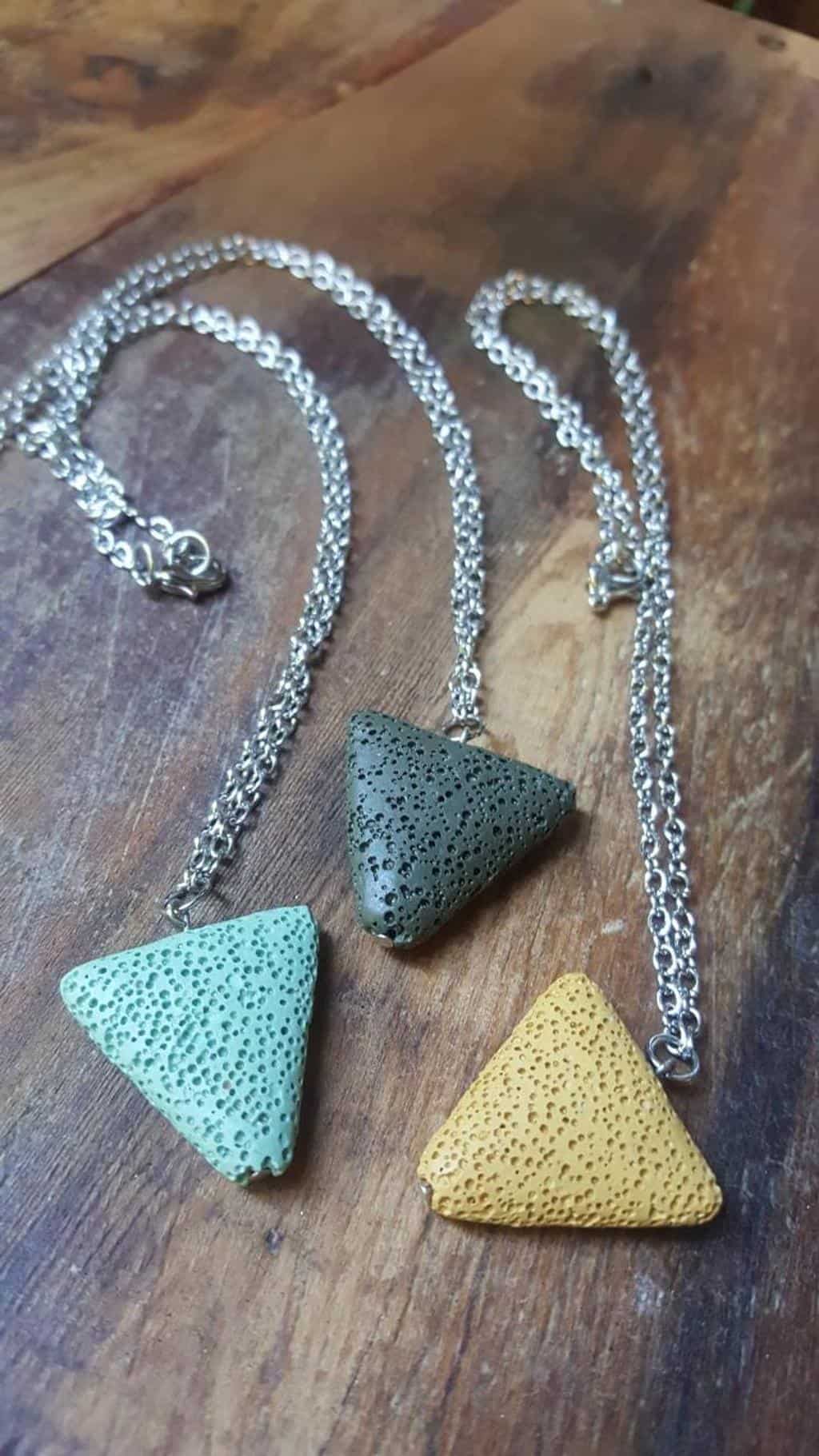 3.) Essential Jewelry 4 U
Essential Jewelry 4 U is a shop from Canada. They even make diffuser bracelets with your birthstones included in them. This necklace is so pretty.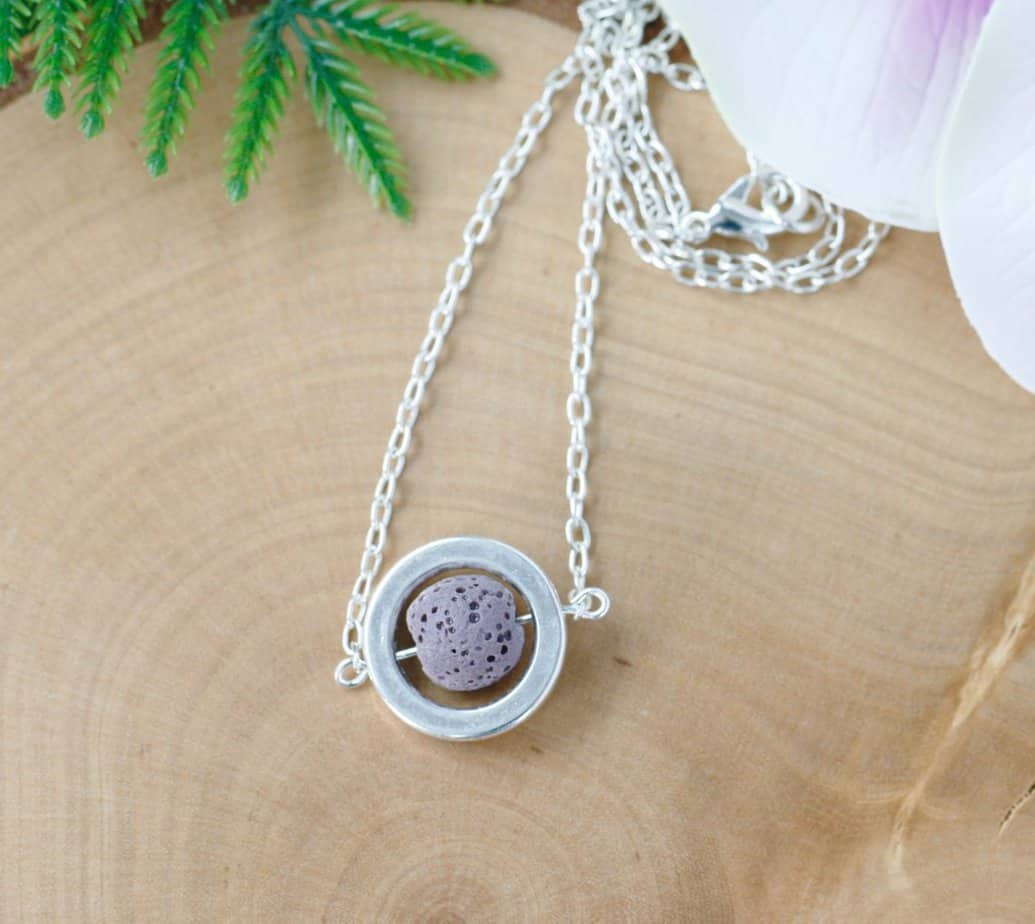 Essential Oil Recipes:
I'm proud to have a bunch of essential oils resources here on Venture1105. Click any of the pictures below to go to the post and learn about essential oils. Don't forget to pin this post so you can come back and visit! Thank you!